SAN ANTONIO — Nearly two years ago, shortly after hearing the Spurs drafted a French point guard, San Antonio forward Malik Rose learned that Tony Parker had his own Web site.
A few clicks later, Rose took his first look.
"It was weird. It showed him dribbling around. It showed his weak French dunk. He barely got his fingers over the rim. Probably a 9-foot rim," Rose quipped Monday.
The Spurs also rag on Parker for eating his french fries with a mixture of ketchup and mayonnaise, and for his bout of vomiting after eating a bad batch of creme brulee the night before Game 6 in Dallas.
But for all the teasing, the Spurs also give the 21-year-old Parker plenty of respect.
He will become the fourth-youngest player in NBA history to compete in the finals when San Antonio's best-of-seven series against the New Jersey Nets begins Wednesday night. Only Jonathan Bender (19, Indiana, 2000), Darryl Dawkins (20, 1977, Philadelphia) and Magic Johnson (20, Lakers, 1980) were younger.
"It's a dream to play in the NBA Finals. Three years ago I was waking up at 3 a.m. to watch the finals, and now I'm playing in them," Parker said.
His matchup against Nets point guard Jason Kidd will be one of the keys to the upcoming series, and it comes with an intriguing subplot.
The Spurs will have more than $14 million worth of salary cap space this summer when Kidd becomes a free agent, and it's possible they will offer it to Kidd.
Will it have an affect on Parker?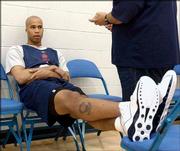 "I've been asked that question 500 times, and it's not going to bother me --the comparison and the matchup with Jason Kidd," Parker said Monday.
The speedy Parker does not even expect this matchup to be his toughest of the postseason. In his opinion, no point guard is more difficult to defend than Phoenix's Stephon Marbury, whose team defeated San Antonio twice in the opening round.
Kidd is not the same type of natural scorer Marbury is, but he's a better passer, rebounder and all-around player.
Kidd is averaging 20.3, 8.4 rebounds and 8.3 assists in the postseason to Parker's 14.9 points, 2.6 rebounds and 3.3 assists.
"They were the best team in the NBA, so everybody talks about Tim (Duncan), and they should," Kidd said. "But Tony Parker is the key. When he plays well, they play well."
Indeed, the Spurs were 20-1 during the regular season and 4-0 in the first three rounds of the playoffs when getting 20 or more points from Parker, whose flashy speed and accurate mid-range jumper are his strongest skills.
Parker, born in Belgium and raised in France, is the son of an American father and a Dutch mother. His father, Tony Sr., played for Loyola, Ill., before moving overseas to play professionally in Europe.
Parker first saw his father's old Chester Highlands neighborhood on Chicago's south side when he was 6.
"It was the ghetto, it was really poor. It helped me appreciate the good things in life," Parker said.
He made his first big splash in American basketball circles in February 2000 at the Nike Hoop Summit in Indianapolis, scoring 20 points with seven assists and two steals against an American team that included Darius Miles, Zach Randolph and Omar Cook.
Best-of-7Wednesday's GameNew Jersey at San Antonio, 7:30 p.m.Friday's GameNew Jersey at San Antonio, 7:30 p.m.Sunday's GameSan Antonio at New Jersey, 7:30 p.m.Wednesday, June 11San Antonio at New Jersey, 7:30 p.m.Friday, June 13San Antonio at New Jersey, 7:30 p.m., if necessarySunday, June 15New Jersey at San Antonio, 7:30 p.m., if necessaryWednesday, June 18New Jersey at San Antonio, 7:30 p.m., if necessary
Parker said Georgia Tech, UCLA and Connecticut approached him to offer scholarships, but he instead turned professional and played in the French League.
That league includes plenty of veteran players, allowing Parker to become accustomed at an early age to older opponents. Much older.
The experience has given Parker an air of confidence and maturity.
He was selected 28th by San Antonio in the 2001 draft, a low number for such an impact player.
"It's because I was a European point guard, that's why. Nobody made it before. They thought the point guard position was for Americans," Parker said. "I'm 50-50; they forgot about my American part."
Parker became a starter just 10 games into his rookie season and has held the job since, showing dramatic improvement along the way.
"Over the past five to 10 years -- and especially the last five years -- there are so many players from overseas that play the game as well or better than the American kids that it should be obvious to everybody, especially with our loss last summer in World Championships, that there are not only good players but good teams, good coaches everywhere," Spurs coach Gregg Popovich said.
The Nets have a 10-game postseason winning streak, two shy of the record in a single postseason set by San Antonio in 1999.
They will have had a 10-day layoff before the series tips off Wednesday night.
"Everyone is ready to go," forward Rodney Rogers said. "We had all that down time, which is good and bad. You get tired of beating up on each other. Everyone's mood is real good."
Copyright 2018 The Associated Press. All rights reserved. This material may not be published, broadcast, rewritten or redistributed. We strive to uphold our values for every story published.