KANSAS CITY, KAN. — Frank Kimmel is so used to Kansas Speedway he needed a single lap to fire off Saturday's fastest qualifying time and earn the pole for today's ARCA RE/MAX Series BPU 200.
"We knew we had the luck of the draw today," said Kimmel, who snagged his second straight ARCA RE/MAX pole at the 3-year-old Speedway in a time of 32.663 at 165.325 mph. "We went out real late. Our major competitors that we thought could shoot for the pole all went before us.
"So we pretty much knew what we had to run, and they told me on the radio before we went out if we were good enough so I didn't have to run a second lap."
Kimmel has been plenty good at the Speedway.
The Advance Auto Parts/Pork Ford driver won the 1.5-mile tri-oval track's inaugural race -- in the Winston West Series -- in 2001, before placing second in the track's first-ever ARCA race to Jason Jarrett.
He won the BPU 200 last year.
"It's a great race track," Kimmel said. "It's super-smooth, got a lot of good grip in it. We love coming here."
But whether Kimmel can become the first driver to win three races at the Speedway (Jeff Gordon won the first two NASCAR Winston Cup events) remains to be seen today, when the 134-lap race begins at 2 p.m.
"He's definitely on a streak," said Jarrett, who has been the only person to beat Kimmel at the Speedway.
Kimmel crashed in last year's Winston West race.
"He's not unbeatable," said Jarrett, who finished fourth in qualifying behind Rick Carelli and 17-year-old Shelby Howard, who took second with a time of 33.109 at 163.098 mph. "I feel better now about our chances than when we came here."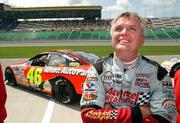 Still, Kimmel -- who has won his last two races and is the current points leader this season -- said he knew everyone was gunning for him.
"We put ourselves in this position, and it's a very good position to be in," said Kimmel, who also had the fastest practice time of Friday's first session over Howard. "We have a lot of confidence when we come to Kansas.
"But do we think we're going to win the race? No. But we're going to try."
¢
Taste of K.C.: While there's plenty of spice at the Speedway this weekend with the third-annual Oklahoma Joe's Barbecue Cookoff and the BPU 200, there's also local flavor on the track.
Seven Missouri drivers and Kansas City, Mo.'s Jennifer Jo Cobb qualified for today's race.
Leading the pack of "Show-Me State" stars was Scott Traylor, of Kansas City, Mo. -- who qualified 11th in 33.599 at 160.719 mph. Randy Ainsworth, of Excelsior Springs, Mo., took 22nd, and John O'Neil of KCMO finished 28th.
"I can't be disappointed with 11th," said Traylor, a longtime racer who was making his debut at the Speedway. "It was exciting to be out there for the first qualifying run. I can't wait until the race tomorrow."
Billy Deckman, of KCMO, Doug Keller, of St. Joseph, Mo., Troy Backlund, of KCMO, and Cobb all qualified under the provisional status. Frog Hall of Blue Springs, Mo., was the only racer to crash Friday, when he turned into the wall on Turn No. 2.
Hall, who was OK, also was a provisional qualifier, but said he was unsure whether he would race his own backup car today.
"I had a guy come over and act like he might loan me a car," Hall said. "But I have a spare car too, but we'll just have to see."
Copyright 2018 The Lawrence Journal-World. All rights reserved. This material may not be published, broadcast, rewritten or redistributed. We strive to uphold our values for every story published.