Washington — A bronze statue of President Eisenhower made by Lawrence, Kan., sculptor Jim Brothers, arrived Saturday at the U.S. Capitol for an unprecedented swap with another sculpture in the National Statuary Hall Collection.
Kansas is exchanging the likeness of the nation's 34th president with a marble statue of a little-known former governor named George Washington Glick.
Each state is allowed to donate two statues of people notable to its history for display in the Capitol building, but until now, no state has ever been allowed to replace one of its statues.
Rep. Todd Tiahrt and other Kansans eventually got the OK from the joint committee that oversees Capitol building art and added a provision allowing the swap to a spending bill.
Tiahrt, the Eisenhower family and the Eisenhower Foundation commissioned the sculpture from Brothers, who made several soldiers in the D-Day memorial in Bedford, Va.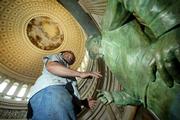 Capitol officials and an aide to Tiahrt, R-Kan., were on hand as the Eisenhower statue was unloaded from a truck and the Glick statue was loaded onto the truck.
Glick is destined for the Statehouse in Topeka, Kan.
Lawmakers will unveil the Eisenhower statue in the Capitol Rotunda on Wednesday, two days before the anniversary of the 1944 D-Day invasion of France by Allied forces under command of Eisenhower, who was raised in Abilene, Kan.
Copyright 2018 The Associated Press. All rights reserved. This material may not be published, broadcast, rewritten or redistributed. We strive to uphold our values for every story published.