Two months into the baseball season, the complete game has all but disappeared, devoured by pitch counts and relief specialists, packed away among baseball's relics from another time.
Nine innings never seemed like such a burden on previous generations of pitchers, who routinely finished what they started. But in those days, there was no pitching coach rocking back and forth in the dugout, peeking at his stopwatch, whispering in the manager's ear.
With lights-out closer John Smoltz in the Atlanta bullpen, Leo Mazzone and Bobby Cox seem unimpressed with complete games and the Braves, equipped with the best record in baseball, had none through the first 54 games.
It was not always that way.
Warren Spahn started 665 games and completed 382 of them, the most by any left-hander in history. He led the National League nine times, seven in a row, the last one in 1963 when he had 22 of them at age 42.
That's almost three times as many complete games as the eight Randy Johnson had in 35 starts when he led the majors last year.
Robin Roberts led the majors in complete games a record five straight years from 1952-56 with 140 in 191 starts for Philadelphia in that span. For his career, Roberts finished 305 of 609 games started.
Times change. So does baseball.
"It's a different game now than it was 20 years ago," New York Yankees manager Joe Torre said. "It's a game of specialization now. You have your starter, your setup man, your closer, and you structure the game that way. Our pitching changes are basically pitch-count things, and if a guy is really low, we'll let him finish."
Torre's Yankees had only nine complete games last season and, even with a suspect bullpen, just two in the first 54 games this year.
Thirty years ago, when the designated hitter was introduced, 27.3 percent of starts were complete games, according to the Elias Sports Bureau. That dropped to 17.7 in 1983, 8.2 in 1993 and has been below 5 percent every year since 1999. It was at 3.8 through the first 750 games -- 57 complete of a potential 1,500 -- this season.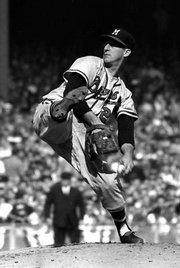 Tampa Bay manager Lou Piniella has witnessed the change.
"When I was playing, we didn't have pitch counts," he said. "The starting pitcher went until the hitters told his manager that it was time to get him out of there.
"Back then, you were just starting to have closers, but now you've got a long guy and a middle guy and a middle-setup guy and a setup guy and a closer. That's why most teams are carrying 12 pitchers."
Piniella said the trend began in the minor leagues where arms were babied to make sure they didn't get burned out.
"You get these big bonus babies and they want to protect them until they get to the big leagues, so you end up with 90- to 100-pitch pitchers all through the minors," Piniella said. "They never develop a second wind, and they never learn how to get guys out for a fourth time.
"It used to be that you had to figure out different ways to get guys out as the game went on, because you were pacing yourself and you had to be ready to face them four times. You would use different pitches in the middle innings in order to have something left at the end. Now they just go full out right from the start, and they are done after 90 or 100 pitches."
Roberts said his secret was in his mechanics -- the shadowy quality that often determines a pitcher's success or failure.
"I could keep my stuff because of my delivery," he said. "My delivery made the difference. I used my whole body and I didn't strain anything. A good, compact delivery could give you 125 pitches a game."
By comparison, in his first pass at his 300th win, Roger Clemens accumulated 133 pitches in less than six innings. The next night, Al Leiter needed 136 to get through six.
Copyright 2018 The Associated Press. All rights reserved. This material may not be published, broadcast, rewritten or redistributed. We strive to uphold our values for every story published.