Anaheim, Calif. — The goal that gave Anaheim hope came on a shot Martin Brodeur never lets in. The goal that got them back into the Stanley Cup finals came on a shot Ruslan Salei never puts in.
Salei scored off Adam Oates' faceoff win 6:59 into overtime and the Mighty Ducks, taking advantage of one of the biggest misplays of Brodeur's career, beat New Jersey, 3-2, Saturday night in Game 3.
Oates fed the puck off the faceoff to Salei at the top of the slot, and Brodeur barely reacted to his one-timer as the Mighty Ducks stayed perfect -- 6-0 -- in playoff overtimes. The Devils are 2-3.
It was essentially a must-win game for the Ducks, who played with the desperation expected of a team that trailed 2-0 in the series and almost certainly would have had no chance to raise the cup had it lost.
Ducks coach Mike Babcock joked that Salei is one of his hardest shooters, if not the most accurate. The goal was only Salei's second of the playoffs.
"He can really shoot the puck. We always tell him shoot the puck on net once in a while," Babcock said. "He bangs the puck off the glass with the best of them."
Added Salei, "So far, it's the biggest goal I've ever scored. We had to win this game. We had to get some momentum going. Now maybe it will go seven games, or six."
Game 4 is Monday night, when the Devils can either take a commanding 3-1 lead or the Mighty Ducks will tie a series they seemed out of following two dominating Devils wins in New Jersey.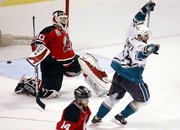 Overtime playoff wins have largely been responsible for Anaheim's remarkable playoff run, which began with three consecutive series-opening overtime victories.
That success traces to goalie Jean-Sebastien Giguere, who has been unbeatable in overtime, with an NHL-record overtime scoreless streak of 166 minutes, 4 seconds. He broke Patrick Roy's record of 162:56 early in the overtime.
Giguere turned aside 29 of 31 shots in by far his best game of the finals.
But the Devils might have won it if Brodeur hadn't lost his stick and couldn't defend Sandis Ozolinsh's seemingly harmless shot as it trickled in from center ice, putting the Ducks up 2-1 at 14:47 of the second.
Only 45 seconds before, the Devils had tied it at 1-all on Patrik Elias' goal.
Copyright 2018 The Associated Press. All rights reserved. This material may not be published, broadcast, rewritten or redistributed. We strive to uphold our values for every story published.