Wednesday was the first day of pool play for the American Fastpitch Association "B" Nationals, but none of three area teams scored a grade higher than a C.
Both the Lawrence Phenix 14-under and 16-under teams, and the 14-under team from Tonganoxie won once, but each took a lump during the first day of the tournament at Clinton Lake Softball Complex and Youth Sports Inc. fields.
"It was just kind of one of those days," said Gary Tanner, coach of the 16-under Phenix, who disposed of Big Lake (Minn.), 3-0, in the first round, but lost, 10-3, to the Trojanettes Red in their second game of the day.
"I'm really not that disappointed with how we played, we just ran into a team that was red-hot," Tanner said of the Trojanettes, who easily rebounded from a 2-1 first-inning deficit with a seven-run surge the Phenix never challenged.
The 14-under Phenix squad lost its first game, 2-1, to the Oklahoma Hurricanes, but rebounded big with an 11-0 win against the Missouri Sidewinders.
"We just didn't play well," 14-under Phenix coach John Hamilton said. "We missed some routine plays and both runs we gave up were unearned. We didn't bring our bats and we seemed pretty sluggish.
"It's the first time a lot of the girls were playing in front of friends and family and they seemed nervous. But it's only pool play and it won't kill us."
Considering the way the team bounced back in its night game against the Sidewinders, scoring three runs in the first inning and never trailing wasn't bad.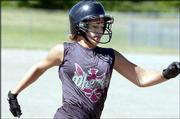 "We did what we had to do," Hamilton said. "First days for us, you never know how we're going to do.
"In my mind I think we might come out hot and we do nothing, then when we're warming up like crap we come out and play lights-out. But we're dealing with 13- and 14-year-old girls. If you could get consistency, you could sell it."
Tanner agreed, but said his team ran into a hot ballclub.
"We told our pitcher not to throw strikes and she didn't, they just came out aggressive and went after every pitch," Tanner said of the Trojanettes, who clobbered their other opponent, 18-0.
"Well we'll be itching to get back out here tomorrow and play like we did this morning," Tanner said.
Tonganoxie split Wednesday, defeating the Lenexa Monarchs, 3-1, but losing to Edna, 8-2.
After today's last round of pool play, the tournament will be rebracketed into a double-elimination format with the championship game Sunday.
Today, the Phenix 14-under play Tuttle Magic at 11:30 a.m. at Clinton, while the Phenix 16-under take on the Blasters at 11:30 a.m. at YSI. Tonganoxie plays Baseburners at 4:30 a.m. at YSI.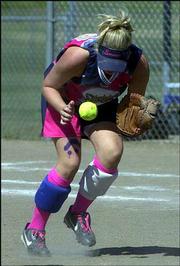 Copyright 2018 The Lawrence Journal-World. All rights reserved. This material may not be published, broadcast, rewritten or redistributed. We strive to uphold our values for every story published.