Employees in Wescoe Hall got a jolt Wednesday when police rushed in after a man carrying a rifle.
The man turned out to be a Kansas University history instructor who had an antique Civil War-era rifle that he brought to show his class, officials said.
He was identified by police as Jerritt James Frank, a graduate teaching assistant.
Despite the false alarm, some Wescoe staff said the instructor should have used more common sense.
"Everybody should know better than to carry around a gun openly in this day and age," said Dodie Coker, a secretary in the philosophy department.
Other employees agreed that with the nation at war in Iraq and incidences of violence occurring more often, a person carrying anything that looks like a weapon would raise alarm. The incident on the KU campus happened before national news erupted about a shooting in New York City's City Hall, where a councilman was killed by a gunman, who was then fatally shot by police.
A handful of employees said they were evacuated from the building, but university police said the building was not evacuated.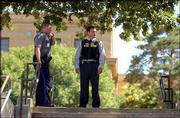 Around 10:30 a.m., students were kept out of the building, and university and Lawrence police were stationed at the entrances. By 11 a.m., everyone was allowed back in the building.
Frank was reported walking across campus with the rifle and then entering Wescoe. Police caught up with him there in a basement office.
"He was given a stern talking to and a reminder of university policy," said Todd Cohen, a university spokesman.
Weapons are not allowed on campus unless permission is given by the provost, Cohen said. The weapon was unusable.
Frank was not arrested and did nothing illegal, KU police Lt. Schuyler Bailey said. Bailey said Frank simply violated KU policy.
Frank could not be reached for comment.
¢ CARRYING CONCEALED WEAPONS.Any person who is not an officer of the law, or a deputy to such officer, who shall be found within the limits of the City, carrying on his or her person or in any container carried by the person, e.g., purse, backpack, sack in a concealed manner any firearm, bowie knife, dirk, slingshot, knucks, or any other deadly weapon, shall be guilty of a misdemeanor. (Code 1979, 14-408; Ord. 5516, Art. 4)¢ DISCHARGING FIREARMS.No person shall discharge or fire off any firearms of any kind within this City. The provisions of this Section shall not apply however, to the discharge of firearms by officers of the law, when necessary in the discharge of their official duties, to the discharge of firearms in any licensed shooting gallery in this City or to any officer or enlisted man of the Kansas National Guard while in the discharge of his or her duty. (Code 1979, 14-409; Ord. 5516, Art. 4)¢ CARRYING WEAPONS IN OR NEAR ANY BAR.No person shall have in their possession any firearm or knife with a blade more than three (3) inches, or any other deadly weapon within or in close proximity to any business which serves any alcoholic liquor or cereal malt beverage. Any person found in violation of this Section will be guilty of a misdemeanor. (Ord. 5516, Art. 4)
Copyright 2018 The Lawrence Journal-World. All rights reserved. This material may not be published, broadcast, rewritten or redistributed. We strive to uphold our values for every story published.