Kansas University researchers are studying ways to improve disaster safety for people with physical disabilities, thanks to a grant from the federal Centers for Disease Control.
Wednesday night, representatives of the Research & Training Center on Independent Living at KU met with about 20 public safety and community service leaders to solicit and discuss safety measures.
Residents from the neighborhoods struck by the May tornado also were invited to the meeting at Raintree Montessori School, 4601 Clinton Parkway, but none showed up.
"Regardless of whether you have a disability or not, you have to have a plan of what to do," said Paula Phillips, Douglas County Emergency Management director. "As a government, we can't prepare for you. There are more of you than there are of us."
People who take medications should prepare and have ready a travel bag with a two- or three-day supply of medications, officials said.
It is also a good idea to have stocks of other supplies on hand in case you have to wait for rescue crews to come looking for you, they said.
"You need to be self-sufficient," said Richard Gist, assistant director of the Kansas City, Mo., Fire Department.
Moreover, neighbors should generally know where you can be found during certain times of the day if rescue workers are trying to check a damaged house or apartment building, they said.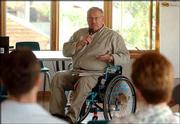 "One of the first problems we run into is finding out who is supposed to be there and where you are," Gist said.
Mike Fox, an investigator with the Research and Training Center, noted that Tulsa, Okla., has entire neighborhoods in which tornado "safe rooms" have been built into houses.
"What does it take for something like that to happen here?" Fox said.
The Research and Training Center earlier this year received a three-year, $340,000 grant to conduct its study.
The center will study 30 counties across the country to determine if disaster plans and emergency response systems include the health, safety and survival needs for those with mobility impairments.
Other aspects of the study will include developing best practices for counties that meet the needs for persons with those impairments in hopes of preventing injuries and saving lives.
Copyright 2018 The Lawrence Journal-World. All rights reserved. This material may not be published, broadcast, rewritten or redistributed. We strive to uphold our values for every story published.