RIVER FALLS, WIS. — The oldest kickoff man in NFL history could play for Kansas City this year.
Of course, Morten Andersen is used to setting standards. The left-footed Dane, who turns 43 next month, is the league's second-leading scorer.
Feeling fit and strong following offseason knee surgery, he is more confident than ever that he'll kick until he's 50.
"That goal won't change unless I have a serious injury that won't permit me to play anymore," Andersen said. "I love the game. I love my art. I love my little section of the game that I feel is real crucial to us being a championship team.
"I enjoy my craft and the camaraderie and everything else about the National Football League."
Andersen missed Kansas City's final two games last year because of a knee injury. He kicked off in 10 games and served as place kicker in 14 before undergoing surgery on his right leg -- his plant leg -- to have cartilage removed.
Following a carefully organized long-term plan he worked out with team doctors and his personal trainer, Andersen began physically rehabbing the leg in March.
All went well, so he started practicing field goals and extra points in May.
Finally Wednesday, a glorious morning at the Chiefs' camp in western Wisconsin, he put the knee through its final big test.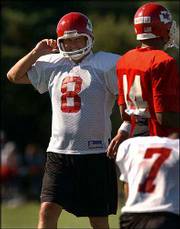 He lined up and kicked off, time after time, and was smiling coming off the field.
"I was pretty pleased with the stability of the knee and everything," Andersen said. "I believe I passed the test."
Kicking off is the most stressful thing a kicker can do to his knee and leg.
"This is a lot more stress, a lot more torque, more wear and tear on the knee," he said. "You have to be real smart when you practice that phase.
"My main concern was that I wouldn't collapse or have any major pain through contact. I just hit them real easy. The ball wasn't going deep. But I accomplished what I wanted."
Coach Dick Vermeil says Andersen could kick off this year for the Chiefs. It would be quite a feat for someone just seven candles short of 50 on his birthday cake.
"I don't know anybody in the history of the league that's kicked off when they were 43 years old," Andersen said. "Gary Anderson hasn't kicked off the last three or four years.
"But it's part of the fabric of what I am as a kicker. I would be remiss if I said I didn't want to do it. I do."
If he gets much closer to his goal of being in the league when he's 50, Andersen would almost certainly retire as the NFL's all-time leading scorer.
Going into this season, his 2,153 points trail only the 2,223 by Gary Anderson, 43, who kicked last year but is not on an NFL roster now.
"If anybody can play until he's 50, it's Morten," said special teams coach Frank Gansz.
As hard as he works, it's no surprise that Andersen is still going strong.
"I have an offseason routine I do. I have an in-season routine I do. Right now we're into a skill phase," he said. "All the groundwork has been laid -- my strength, my power, and rehabbing the leg from surgery. It's time to test all the work. So far, I'd say I've got an A."
Like many of his coaches and teammates, Andersen feels the Chiefs should have a chance to get back to the playoffs for the first time since 1997.
"I'm in one of the best shapes of my life. My weight's good, my power's good. My mind is right. I feel this could be a special year for us. I'm looking for the big ring on my finger."
Copyright 2018 The Associated Press. All rights reserved. This material may not be published, broadcast, rewritten or redistributed. We strive to uphold our values for every story published.