Westar Energy's plan to pay each of its customers about $28 in rebates over a two-year period is far below what the company should be paying, a state consumer advocate said Wednesday.
The Kansas Corporation Commission has ended its hearing into plans by the financially beleaguered company to reduce its $2.9 billion in debt.
Under an agreement with large industrial customers, Westar would rely more heavily on investors and less on debt for its capital. The Topeka-based company already has cut its stock dividend and started selling nonutility assets to pay down its debt.
David Springe, consumer counsel for the Citizens' Utility Ratepayer Board, said some of Westar's plan was "quite reasonable."
But he blasted a proposal by Westar to rebate only $20.5 million in 2005 and 2006 to its 653,000 electric customers, describing the rebate as "a very, very small bone to consumers."
The rebates, which would be a little more than $14 per customer per year, should be more, Springe said, although he didn't say how much more.
Springe said Westar's rates approved by the KCC in 2001 allowed for the company to charge its ratepayers $49 million per year to recover the cost of federal taxes. But the company didn't pay those taxes because it was in such dire financial condition.
"I think that what is contained in the settlement in terms of rebates is too small," Springe said.
Springe also objected to allowing the company to continue paying shareholders an annual dividend of 76 cents per share.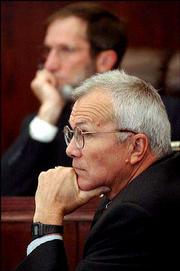 "Doesn't that just sort of stick in your throat, if we are going to continue paying dividends," he said.
In written testimony, Westar CEO Jim Haines said he hoped the KCC would stick to the company's plan.
"Westar Energy was and remains in fragile financial health. If we were required to do more, my confidence in the viability of the plan would diminish substantially," he said.
Haines added that the plan "provides only a thin margin to allow for its separate parts to come in below expectations."
The KCC must decide on Westar's plan, but hasn't released a timeline for the matter.
---
The Associated Press contributed to this report.
Copyright 2018 The Lawrence Journal-World. All rights reserved. This material may not be published, broadcast, rewritten or redistributed. We strive to uphold our values for every story published.