Sandwich, England — Mark Roe was on top of the world Saturday as he strolled off the 18th green at Royal St. George's, blowing kisses to the crowd and savoring a thunderous ovation.
The English journeyman had just played the greatest round of his life. He looked forward to returning today with a chance to win the British Open.
Instead, he'll be watching the tournament on TV.
Roe was disqualified after shooting a 4-under-par 67 in the third round, the victim of an innocent scorecard error involving playing partner Jesper Parnevik.
The two failed to swap scorecards before they teed off, so Parnevik's 81 was on Roe's card -- and Roe's score was on the Swede's card. The two signed off on their errant figures in the scoring hut without anyone noticing until it was too late.
"How stupid is that?" Parnevik said. "We checked our scores with the scorers. We had two (Royal & Ancient) officials checking. I can't believe in the 10 minutes we were in there, they didn't catch it."
In Parnevik's case, it really didn't matter. He was out of contention after a terrible round.
But the 40-year-old Roe, who hasn't won since 1994, would have been just two strokes behind leader Thomas Bjorn after matching the best round of the tournament.
"What can you do?" Roe said. "I've just played one of the greatest rounds of my life, and I can't play tomorrow."
Here's how it happened:
In tournament golf, players keep each other's scores. Roe and Parnevik got their cards from Royal & Ancient officials before the round, with their names printed in the upper left corner. But they failed to make the swap at the first tee.
When they signed their cards at the end of the round, each was disqualified for vouching for a lower score on a hole. In Roe's case, there was only one hole where he scored worse than Parnevik, No. 4. Without that, Roe could have played on, though he would have had to take Parnevik's 81.
"Ultimately, it's your responsibility to have the correct card," Tiger Woods said. "It's a shame that happened, but sometimes you've got to make those mistakes to learn."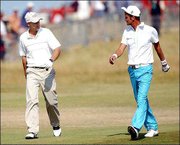 Roe couldn't believe he cost himself a chance to win a major with such a silly blunder.
"We obviously shook hands on the first tee and forgot to exchange scorecards," he said. "I bet he was happy with 67."
Amazingly, Stuart Appleby and Phillip Price made the same mistake Saturday. Three players on the leaderboard almost were eliminated, but Appleby caught it before they turned their cards in.
Price is three strokes behind Bjorn, Appleby is five back.
"It was only luck," Price said.
Roe thought he had made every effort to avoid making a mistake in the scoring hut.
"I triple-checked my scores, as I always do. I asked the lady scorer to repeat my scores, which she did," he said. "I didn't rush in and rush out. Obviously, after having such a good day, I'm going to double- and triple-check my scores."
Roe got word of his disqualification a few minutes later, while doing TV interviews.
"I should probably go out and shed a tear in private," he said. "But at the end of that, when I see my kids, this won't seem so bad."
Copyright 2018 The Associated Press. All rights reserved. This material may not be published, broadcast, rewritten or redistributed. We strive to uphold our values for every story published.