For much of the summer, nearly 40 members of Kansas University's football team have taken part in a two-hour workout while most of their fellow students are still asleep.
Typical was last Thursday when a group arrived at Anschutz Sports Pavilion in a light smattering of pre-dawn rain, changed into workout gear and began their 6 a.m. workout with director of strength and conditioning coach Chris Dawson.
It was the first of four sessions of KU players who gather Monday, Tuesday, Thursday and Friday. The 6 a.m. session is also the largest and includes several KU newcomers, including tight end Lyonel Anderson and wide receiver Moderick Johnson.
Many veteran Jayhawks also attend the early morning workout, including senior safety Zach Dyer and senior quarterback Bill Whittemore.
"The culture that we have at the University of Kansas of our football program right now is not established by the junior-college kids that come in," Dawson said. "It's established by the guys that are here and working when those junior-college guys first come in."
The first thing the newcomers did, Dawson said, was determine what was and wasn't acceptable.
"By the tone that a guy like Bill sets, or Banks Floodman or any of those guys who don't ever miss workouts, it says a tremendous amount," Dawson said. "It says right off the bat that if you're here to play football, you're here to work."
Forced inside
Normally, workouts begin outside, but they were forced inside last Thursday by the rain. The players warmed up with light jogging in 20-yard bursts before moving to 25- and 50-yard runs.
Dawson then had the players run figure eights through a set of cones from sideline to sideline. Running in three groups of five with a new player starting every five seconds, each Jayhawk had 85 seconds to finish the course.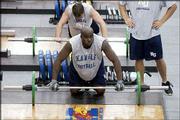 After three sets of figure eights, the participants spread out in a circle over half the practice field and stretched before moving on to position drills.
"There's not really a constant thing we do, which is nice," Whittemore said. "We're not coming in here going through the same routine every day. We're doing different things. We've got something to look forward to in a way."
In simulating game situations while the players are tired, the position drills are designed to improve foot speed and the ability to change directions.
Quarterbacks worked on their drops, linemen on footwork, wide receivers on cuts and defensive backs on coverage skills.
"It's more designed to get your change of direction and football skills in tune than just running straight ahead 100-yard dashes," junior defensive tackle Travis Watkins said.
Different last year
Watkins said last year's drills were aimed at "weeding out" unfocused players.
"A lot of guys ended up leaving, and I think it was probably best for the team," Watkins said. "This year, it's changed a little bit as far as the workouts. They're always going to be hard, but they're geared more toward making us better football players physically and mentally."
A year under the current regime, Dyer said, has made a difference.
"We all know what to expect from coach Mangino and his staff, and there's more of a focus on getting better for the season," Dyer said. "Last summer, I don't think there was quite that same focus. Everyone was kind of new and not sure what to expect."
After the position drills, the participants huddled together for a quick talk before lifting weights. Then they broke the huddle, yelling "Big 12 Champions."
Explained Dyer: "There's no reason to set our sights lower."
Next the 6 a.m. group headed to the Anderson Family Strength and Conditioning Center for an hour of lifting weights. With its abundant equipment, spacious workout area and variety of available exercises, the Anderson Center has been a boon to summer workouts.
"It's the Taj Mahal," Dawson said of the facility, which opened in March. "I've got the best facility -- I mean we, the University of Kansas -- have the best strength and conditioning facility in the country."
Yes, even better than Nebraska's.
"I'd put our facility up against theirs any day of the week," Dawson said. "I'd put it up against anybody. I haven't seen a finer one."
Position specific
Breaking into smaller groups, the players worked through a series of exercises, including push-ups, squats and bench presses. While each member of the group did the same exercise, each player's individual workout was specifically tailored.
"First off, it's position specific, but then we break it down to more individual specific," Dawson said. "We demand different things out of an offensive lineman than we do out of a defensive back on Saturdays, so it only makes sense that we train them differently, be it in the weight room or on the field doing drills."
Though there was fraternizing and joking in the strength facility, the focus was certainly on improvement. Every player was working nearly every moment, and Dawson and his aides moved from group to group offering advice and encouragement.
"Our kids have definitely made a commitment and they've paid the price this summer, and we're a lot better because of it," Dawson said.
Copyright 2018 The Lawrence Journal-World. All rights reserved. This material may not be published, broadcast, rewritten or redistributed. We strive to uphold our values for every story published.