San Francisco — Embattled Gov. Gray Davis tried to galvanize allies Saturday against an apparently inevitable recall election, casting the effort as a Republican power grab at a "unity rally" with other prominent California Democrats.
"They are trying to spend $60 million to have a special election to recall all the progress you and I have made in the last four and a half years," Davis told about 500 cheering supporters in this Democratic bastion. "This is not about changing governors but about changing the direction -- I'll go forward, they'll go backward."
House Minority Leader Nancy Pelosi was among the California Democrats showing support at the rally, which came days ahead of a key deadline that recall proponents hope will trigger a recall election this autumn.
Pelosi belittled the recall as "part of a national Republican agenda to achieve through the recall what they can't achieve in an election."
By Wednesday, counties must report how many valid signatures recall organizers have submitted -- and indications are they could well have gathered the 897,158 they need.
If the recall qualifies, an election would be held within 60 to 80 days -- making Davis the first California governor ever to face a recall ballot. Efforts by Davis allies to stop the recall in court have so far failed.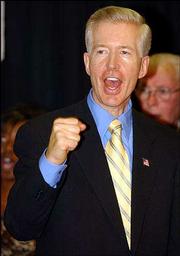 Copyright 2018 The Associated Press. All rights reserved. This material may not be published, broadcast, rewritten or redistributed. We strive to uphold our values for every story published.