It's not your typical Kansas state seal.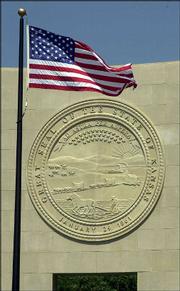 Instead of adorning a flag, the seal at the Dole Institute of Politics is a hefty stone medallion that's 14 feet in diameter. It's believed to be the largest version of the Kansas state seal.
The seal was constructed by Continental Cast Stone in Shawnee in four sections. It was funded by a $50,000 donation from the Dane G. Hansen Foundation in Logan.
The state seal features a farmer and plow, buffalo, a cabin, steamship and the state motto, "Ad astra per aspera," Latin for "To the stars through difficulties."
The seal is on the building's elliptical wall entranceway, just west of the world's largest stained-glass flag.
Facts about the Dole Institute of Politics building at Kansas University:Cost: $11.3 million, including $3 million in state funds and $8 million in private funds.Size: 28,000 square feet.Archive space: 12,000 square feet in the basement, about half of which will be filled with Bob Dole's papers.Groundbreaking date: Oct. 5, 2001.Heavy beams: The foundation of the building had to be reinforced to allow the World Trade Center beams to be installed in the exhibit area. They weigh 1,500 pounds each.Reflecting pool: It's nicknamed "Polly's Pond," after benefactor Polly Bales of Logan. Officials hope to turn it into a community ice skating rink during the winter.Native stone: The limestone used in the building's construction was quarried in Kansas.
Copyright 2018 The Lawrence Journal-World. All rights reserved. This material may not be published, broadcast, rewritten or redistributed. We strive to uphold our values for every story published.