Whiteriver, Ariz. — Firefighters made advances Wednesday on one side of a forest fire that has forced as many as 5,000 people from their homes, but wind and lightning could threaten their progress.
The fire on the Fort Apache Indian Reservation was 10 percent contained after blackening 14,000 to 16,000 acres and leading to several thousand evacuations in Whiteriver and other reservation communities in eastern Arizona.
"We're not doing as well as we'd like to, but we're doing OK," said Larry Humphrey, commander of the firefighting team.
Crews made headway on the side of the wildfire closest to the evacuated communities and were evaluating when residents might be able to return, Humphrey said.
Elsewhere in the Southwest, Mesa Verde National Park in Colorado was closed Wednesday due to a fire that was threatening the park's historic ruins. Lightning started six blazes Tuesday in Mesa Verde, where fires threatened ruins last year as well.
"We hadn't even put our bags in our room when the rangers came up saying 'get in your car and get out,"' William McLoughlin of New York said of his arrival at Mesa Verde.
At Mesa Verde, none of the five fires still burning Wednesday had been contained, and officials were seeking extra fire crews.
Although the park's signature cliff dwellings are largely built of stone, fire could damage interior structures of wood and mud, said Mark Varien, research director for the Crow Canyon Archaeological Center in Cortez, Colo.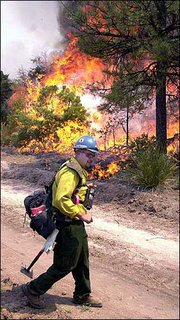 "It would not only compromise the structural integrity of those buildings, but the wood is really valuable," Varien said. "That's (tree growth rings) how we date those buildings."
Flames also could damage rock paintings by heating water within the limestone under the paint layers, he said. And burning off protective vegetation could expose the sites to erosion.
The fire on the Apache reservation was within about a third of a mile of homes around Whiteriver, the tribal headquarters. It also had gotten to within three miles of a mountain where the arrival of flames would trigger evacuations in Pinetop-Lakeside and other mountain communities, where the population swells to 30,000 in the summer.
The fire was started by lightning Sunday east of the starting point of last year's Rodeo-Chediski fire, the largest wildfire in Arizona history, which charred 469,000 acres and destroyed 491 homes.
Carrie Templin, a spokeswoman for the firefighters, said there was a potential for wind that could drive the fire and for thunderstorms that could produce more lightning but little rain.
In western Wyoming, the Snake River was reopened to recreational use Wednesday after being closed for three days because of fire. The 3,200-acre fire was 20 percent contained, said Jay Kriss, Bridger-Teton National Forest spokesman.
A wildfire in Montana forced the evacuation of about 150 rural homes and cabins near the town of Cascade on Wednesday. Fire managers said the blaze grew rapidly to 150 acres during the morning.
Copyright 2018 The Associated Press. All rights reserved. This material may not be published, broadcast, rewritten or redistributed. We strive to uphold our values for every story published.