Lawrence: Fake identification capital of Kansas.
It's not a title the Lawrence Chamber of Commerce is going to brag about, but state alcohol beverage control officials say it is true, nonetheless.
"The use of fake IDs is more widespread in Lawrence than anywhere else in the state," said Dean Reynoldson, assistant director of Kansas Alcoholic Beverage Control.
Lawrence Police wouldn't disagree. When police conduct bar checks they invariably find underage drinkers.
"It's not uncommon to find some (college) students with three or four-inch stacks of fake IDs," Police Lt. David Cobb said.
If there are underage drinkers in a bar, it also is usually obvious right away to police who they are, Cobb said.
"You'll see a group of people at a table who aren't touching their drinks," he said. "Or suddenly there will be a rush of people heading to the bathroom."
The legal age to drink alcoholic beverages in Kansas is 21. Lawrence's widespread use of fake IDs is probably due to it having the largest university in the state, Reynoldson said.
Advances in computer and scanning technology have made it easier in recent years for fake identifications -- usually driver's licenses -- to be made, Cobb and Reynoldson said. Students who know how can make their own or find someone who can make one for them.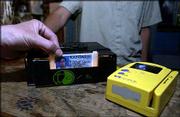 Businesses or entrepreneurs making false IDs advertise on the Internet. They justify their businesses by calling the cards "novelty identifications." Some Web sites have samples of the cards listed by state. They charge up to $50 per card.
Some bars, however, have increased their own use of technology to prevent the underaged from faking their way inside. At the Sandbar, 117 E. Eighth St., patrons' driver's licenses are run through a device that checks for magnetic strips to verify that they are real licenses, owner Peach Madl said.
A photograph also is made of an ID card for record purposes and in case it becomes necessary to use as evidence in court, Madl said.
"I think it works as a deterrent," Madl said of the checks made at her bar.
Nevertheless, some underagers still try to get inside. Doormen at the Sandbar turn away three or four people a night, Madl said.
"We don't accuse anybody (of having a fake ID)," she said. "We just tell them there are some problems with their ID."
Making false identification such as a driver's license is a felony. A conviction could bring a prison sentence of five months to 13 years. Offenders could receive probation if they don't have a prior record.
Unlawful use of a fake driver's license is a misdemeanor. A conviction could get the offender up to a year in the county jail.
Alcoholic beverage control agents usually move into Lawrence for a night of bar checks twice a year, Reynoldson said. Lawrence Police conduct bar checks when they have the manpower and try to check all of the bars to avoid indicating favoritism, Cobb said.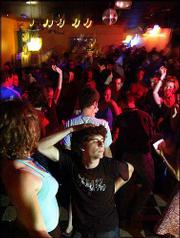 Police also will check bars if they receive complaints about an establishment, Cobb said.
State ABC agents could take the results of an investigation to the U.S. Attorney's office for filing charges in federal court, Reynoldson said. A case resulting from an investigation in Lawrence which also involved police is currently under review by federal prosecutors, he said.
"It depends on the size and scope of the operation," Reynoldson said of possible federal prosecution of a case. "If it crosses state lines, involves people in other states, it could be a federal case."
Copyright 2018 The Lawrence Journal-World. All rights reserved. This material may not be published, broadcast, rewritten or redistributed. We strive to uphold our values for every story published.