Overland Park — When Sheri Perry started attending classes at Kansas University's Edwards Campus two years ago, she didn't always feel like she was at a university.
Now, as she enters her final year in the public administration master's program, the campus is starting to come of age.
"I think it's more and more feeling like a campus," she said. "I know a while back, there wasn't much to make a connection with a Jayhawk. It's not a traditional campus -- students are always going to go to work, to there and go home. They're not going to linger."
As the Edwards Campus celebrates its 10th anniversary this year, leaders are looking for ways to make students feel better-connected to the KU tradition in Lawrence. That may be easier next summer, when two new buildings open.
"When I came here, this was essentially just a building," said Bob Clark, vice chancellor for the Edwards Campus, who started in 1997. "In June 2004, this evolves from a building to a campus."
New buildings
Construction is under way on the $17.2 million Regnier Hall, which will offer 82,000 square feet for 18 classrooms, three computer labs, 30 faculty offices and a 240-seat auditorium. The current classroom building is about 55,000 square feet.
The building is financed by $5 million from the Hall Family Foundation, $3 million from the Victor and Helen Regnier Charitable Foundation and $9.2 million in state bond money paid from student fees.
Clark said the new building would allow KU to increase the number of programs it offers from 25 to 40 over the next five years. The current programs are a mix of graduate and undergraduate degrees, with some programs offering only junior- and senior-level courses to students who received associate's degrees from Johnson County Community College, a few miles away.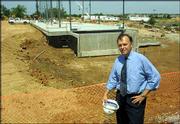 Education, engineering, business and social work are the most common majors at the campus. Most students are full-time professionals.
Enrollment, currently about 2,000, also is expected to double during the next five years, continuing a steady trend. The number of credit hours taken at the campus has increased 21 percent since 1997.
The other new building is a student union. The Kansas University Endowment Association recently purchased the Phillips 66 convenience store just north of the Edwards Campus for use as a student lounge and bookstore on the first floor, with offices in the basement.
Clark said the addition of a union should make students feel more like they're on a traditional university campus.
Future plans
The new buildings are part of a $70 million expansion plan for the 36-acre campus at 12600 Quivira Road.
Tentative plans call for two more buildings that would include research space, a School of Information, Science and Technology, and a new library.
Clark said the campus would remain responsive to the work force and economic development needs of Johnson County in deciding how to expand. A report indicated last year that the campus had contributed nearly $208 million to the Johnson County economy since 1993.
Dick Bond, a member of the Kansas Board of Regents and chairman of the Edwards Campus Advisory Board, said he saw plenty of potential for expansion.
New industry is ripe with students who want advanced degrees, he said.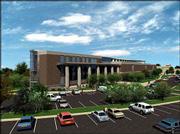 "It's like why you rob banks -- it's where the money is," Bond said. "Well, this is where the students are."
He said the style of teaching at the campus -- which generally includes many discussions about real-world experiences -- was a draw.
"I think a traditional campus like the Lawrence campus is more theoretical, whereas if you're going to a community college or getting a master's degree, it's education that's directly work-related," Bond said.
Financial independence
Clark said one of his goals for the next few years is to make the Edwards Campus more self-sufficient.
Currently, faculty from the Lawrence campus provide nearly all of the instruction on the Overland Park campus. But a new $15-per-hour fee will allow Clark to hire 70 new full-time-equivalent faculty members over the next five years. There currently are 116.
A history of the Edwards Campus, the Overland Park location where Kansas University offers 25 degree programs:1987 -- KU Chancellor Gene Budig presents a plan for a new higher education facility to the Legislative Educational Planning Committee.1990 -- Clay Blair donates 36 acres at 126th Street and Quivira Road to KU. Ground is broken on a Regents Center building in October.1992 -- The Regents Center building on the Edwards Campus is completed in December.1993 -- The campus officially opens for the spring semester.1997 -- KU hires Bob Clark as vice chancellor.1999 -- Kansas Board of Regents approves $70 million master plan that would quadruple the size of campus.2000 -- Undergraduate courses and certificate programs are offered for the first time.2001 -- The Hall Family Foundation in Kansas City, Mo., donates $5 million to the expansion project.2002 -- The Victor and Helen Regnier Charitable Foundation donates $3 million to the expansion. Groundbreaking on Regnier Hall occurs in October.2003 -- A report shows the campus has contributed nearly $208 million to the Johnson County economy since 1993.-- Source: KU
Tuition and fees for the fall semester will be $171.05.
"I don't see us being a stand-alone university," he said. "But at some point, Lawrence has to say we'll continue to support you at the level you are, but you'll have to take care of any additional expansion."
Because of its economic development mission, Bond said, Edwards Campus officials have considered requesting a mill levy from Johnson County Commissioners. But he said that seemed unlikely to be approved.
"It's probably not a viable option," he said. "It would be great if we can do it, but it's a county that already as a higher-ed mill levy for a community college, that makes it difficult."
For Perry, an administrator at West Side Family Church in Shawnee, the Edwards Campus was attractive because of geography and the national reputation of the public administration program -- it's been ranked No. 1 for several years by U.S. News and World Report.
She said that although the Edwards Campus didn't feel like the University of New Mexico, where she received her undergraduate degree in 1998, going to school with other professionals had its advantages.
"The students are engaged," she said. "They know what they want to get out of it. Rarely do I go to class and people haven't read their material. It makes for some good class discussions."
Copyright 2018 The Lawrence Journal-World. All rights reserved. This material may not be published, broadcast, rewritten or redistributed. We strive to uphold our values for every story published.