Norfolk, Va. — The ship's whistle blared and warplanes streaked overhead Saturday as the Navy commissioned its newest aircraft carrier, the USS Ronald Reagan, and former first lady Nancy Reagan told the crew to "bring her to life."
The carrier, nearly 1,100 feet long and standing 20 stories above the waterline, is the first to be named for a living president. The flight deck covers 4.5 acres.
The former president, now 92 and ailing with Alzheimer's disease, didn't attend the ceremony at Norfolk Naval Station.
"Today we send forth a great American ship bearing a great American name," Vice President Dick Cheney told the crowd.
"Something tells me any potential adversary of the United States will take note when word arrives that the USS Ronald Reagan has been sighted off shore," Cheney said.
By the time the two-term president left office in 1989, the Navy had nearly 600 ships, about twice the ships it has today.
"He came to the presidency with a clear understanding of the tools our Navy would need to protect the American people," Cheney said.
Nancy Reagan christened the ship in 2001, breaking a bottle of American sparkling wine against its bow.
On Saturday, she walked to a podium on the deck of the nuclear-powered ship, waved to the cheering crowd on the pier below and said: "I only have one line, so 'Man the ship and bring her to life."'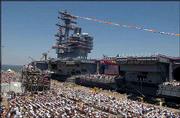 Sailors in dress white uniforms replied "Aye aye, ma'am," then raced aboard the ship decked out with red, white and blue bunting as a band played "Anchors Aweigh."
Two F-14 Tomcat and two F-18 Hornet jets flew overhead in formation and the carrier's whistle blared.
The Reagan, expected to serve the Navy for more than 50 years, will be based in San Diego, be home to 6,000 sailors and carry more than 80 aircraft. With two nuclear reactors, the carrier can travel faster than 30 knots and operate for 20 years without refueling.
Construction took about five years. It is the ninth, and second-to-last, Nimitz-class carrier to be built at the Northrop Grumman shipyard in nearby Newport News.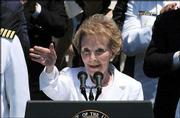 Ann Stinson drove from Grove City, Pa., to attend Saturday's ceremony because her niece's husband is a sailor assigned to the Reagan and their infant daughter is to be baptized today aboard the ship. She said she would have wanted to attend the commissioning ceremony anyway because she admires the Reagans.
"He was an excellent president and I think she is a very dignified lady," Stinson said.
Copyright 2018 The Associated Press. All rights reserved. This material may not be published, broadcast, rewritten or redistributed. We strive to uphold our values for every story published.