Oskaloosa — For 102 years the Oskaloosa community has celebrated its Kansas heritage with an Old Settlers Reunion.
The celebration these days, however, is different from settler times.
"Originally, the settlers got together, cooked beans out on the courthouse lawn and talked about the hardships of settling the county," said Cathy Dailey, an event organizer.
Dailey also said the event had grown, with 3,000 to 5,000 people expected to attend this year's four-day celebration.
Activities start at 11 a.m. today with Lunch Under the Tent, sponsored by the Oskie Jaycees. A carnival, which lasts through Saturday, begins tonight.
Besides rides, the carnival will offer an ice cream social, a wine-tasting booth by Kansas wineries and a pork-burger stand by the Oskaloosa Chamber of Commerce.
Tonight at 7 is a bluegrass concert featuring artist Stan Tichenor.
Friday is adult games night, including a horseshoe-throwing contest, cow chip toss, hay scramble and tug-of-war.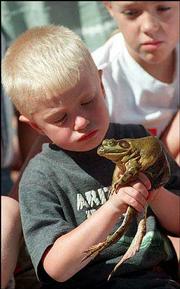 Rynette Reiling, an event organizer, said one of the most popular games each year was the outhouse race. Teams race to build and transport an outhouse on wheels.
"We had a kid's team last year called 'The Little Stinkers,'" Reiling said.
Two new games were added to the 2003 event. The garden tractor and lawnmower pull invites participants to match their own machines against others in a weight-pull contest. The fireman's race will pit teams from firehouses across Jefferson County against time.
A children's parade featuring dressed-up pets and decorated bicycles starts at 9 a.m. Saturday, followed by children's competitions. Games will include a turtle race, frog hop, egg toss and sack race. Another parade begins at 6 p.m. Antique cars, horsemen and floats with the theme "Honoring our Veterans Past and Present" will be included in the parade.
Lee Domann and Mike Knapick will play music ranging from bluegrass to classic rock from 4:30 p.m. to 6 p.m. Saturday and Texas Connection leads a street dance at 9 that night.
The event ends Sunday with a performance by Oskaloosa native James Reynolds, who plays Abe Carver on NBC's "Days of Our Lives," at 2 p.m. at Oskaloosa Middle School. Reynolds and co-star Valerie Wildman, who plays Fay Walker, will perform "Life, Love and Other Stuff," a romantic comedy. Tickets are $10 and proceeds benefit the Senior Service Program of the Jefferson County Health Department.
Copyright 2018 The Lawrence Journal-World. All rights reserved. This material may not be published, broadcast, rewritten or redistributed. We strive to uphold our values for every story published.