Toulouse, France — In a dusty field near an old farmhouse that now serves as a community center, Airbus is erecting a massive structure for assembling the world's largest commercial jetliners.
The planes, to be delivered beginning in 2006, represent the future of air travel as seen by Airbus, the company that is poised this year to surpass Chicago-based Boeing Co. in deliveries of large passenger jets.
It is still unclear which company will win the most orders in 2003, with Boeing scoring a major order Tuesday for up to 38 aircraft, plus options to buy 50 more, from low-cost carrier AirTran Airways. Deliveries of those aircraft are scheduled to begin in 2004.
"Our mission is to be the best," Airbus Chief Executive Noel Forgeard said. "If it leads us to be the biggest, that will only be a side benefit."
When Airbus was funded in 1970 by a consortium of European governments, even its executives did not foresee the success it would land.
The Toulouse, France, headquarters office was built in 1974 to hold 350 people, more than the company's founders ever expected to employ. Now the headquarters -- excluding Airbus' nearby factories -- has turned into a multi-building campus filled with 2,500 employees. The company has more than 46,000 workers altogether.
Unlike Boeing workers, who talk about how many generations their families have worked for the company, Airbus' current employees still compare notes about the early days of marketing their first jetliner.
In the 1970s, there were more competitors making commercial jets -- including Boeing, Lockheed Martin and McDonnell Douglas -- and airlines had few incentives to buy from an upstart.
"It was a miserable, rotten time to get somebody to buy into Airbus," spokesman David Venz said of Airbus' initial desperation.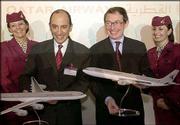 By the late 1970s, the company had sold a few planes but wanted a U.S. airline aboard to help validate Airbus in the market.
Risk pays off
In an unprecedented and financially risky bid to break into the global airline market, Airbus in 1977 gave Eastern Airlines four planes to fly for a six-month trial.
The gamble paid off. After the trial, Eastern ordered 23 of the jets Airbus had to offer, plus announced its readiness to buy 25 of the next jet model that Airbus had in the works.
Since that breakthrough, Airbus' fortunes have marched upward despite accusations by Boeing and other competitors that the French startup did not approach the market or plane building the right way.
Now, even Boeing executives acknowledge that Airbus gained market share partly because it was free of the cultural and other legacies of traditional manufacturing.
Take Airbus' strategy of building pieces of its planes -- wings, tails, cabins -- all over Europe, then flying them to Toulouse in gigantic planes nicknamed "belugas" for final assembly. Such scattered manufacturing partly was a result of Airbus' original structure, in which various government owners received factories and jobs.
But it also helped Airbus find qualified workers in places outside Toulouse -- a precursor to the type of outsourcing that many manufacturers, including Boeing, now want.
"Older-line companies were much more totally integrated. Airbus was younger, so it touched the best-in-class people. We have over time moved somewhat in that direction," said John Feren, head of sales and marketing for Boeing's new airplane, the 7E7.
Over the years, Airbus has taken other steps to reshape commercial aviation.
The company introduced a computer-controlled flight system that allows Airbus jets to have nearly uniform cockpits, so that airlines spend less time and money training their pilots to fly various Airbus jets.
The system also enables pilots to take advantage of a plane's maximum capabilities in emergency situations, such as preventing stall and permitting planes to bank as sharply as possible.
Industry experts argue over whether such technology is necessary. They also compare the advantages of traditional jetliner yokes, the driving sticks in front of pilots, compared to Airbus' well-known "side-sticks."
Shareholders' roles differ
Airbus' next new model, the gigantic A380, is scheduled for delivery in 2006.
Boeing, by contrast, has not been introducing new planes at the same rate, and some experts say that is because the U.S. plane maker, unlike Airbus, must answer to a large shareholder base for the development dollars it spends.
"Airbus cares a lot less about returning value to shareholders. Boeing is the classic American shareholder-driven corporation," said Richard Aboulafia, aerospace analyst at the Teal Group.
Currently, Airbus is 80 percent owned by European aerospace giant EADS, a company that is partly publicly traded. The other 20 percent of Airbus is owned by BAE Systems.
"Eventually something like the American way of thinking will intrude on that in France," Aboulafia predicted, and Airbus will be more susceptible to shareholder demands.
As it stands, the company has been free to develop airplanes without the blinding light of shareholder scrutiny, and it has sold those planes at prices that are not disclosed or easy to discern.
Airbus discloses the value of planes on order each year -- a figure that more than doubled from $21 billion in 1996 to $44.7 billion in 2001 -- but not its actual sales or profits. That year, Boeing's commercial airplane unit posted revenues of $35 billion, including any price discounts. Both saw orders drop significantly in 2002.
Critics accuse Airbus of selling planes well below cost, something Airbus officials vigorously deny.
"They've really been buying market share, and it's created a huge problem for Boeing," said analyst Robert Toomey of RBC Dain Rauscher in Seattle.
Retorts Airbus' Venz, "If Airbus was such a desperate discounter, why would we ever lose a deal?"
Copyright 2018 The Lawrence Journal-World. All rights reserved. This material may not be published, broadcast, rewritten or redistributed. We strive to uphold our values for every story published.