Seattle — Nick Collison was hoping the Seattle SuperSonics would take him with the 12th pick in Thursday's NBA draft.
The Sonics were just hoping they would have the chance to pick the Kansas University All-American.
"In the draft room, we were roaring with excitement," Sonics chairman Howard Schultz said. "We never believed Nick Collison would get to us at 12. To link that with Ridnour ... I've got to tone down my excitement."
Seattle drafted Collison with the 12th selected and took Oregon's Luke Ridnour two picks later. The draft picks -- who were introduced at a news conference Monday -- helped Seattle fill two pressing needs.
Ridnour will be groomed as a successor to Gary Payton, who went to Milwaukee in the trade that brought Ray Allen to Seattle. The Sonics also acquired point guard Kevin Ollie, a free agent this summer, in the deal.
Collison will help underneath, where Seattle hasn't had a measurable presence for years. He averaged 18.5 points and 10 rebounds a game last season at Kansas and is able to play with his back to the basket or move out to three-point range.
Collison, who helped Kansas reach the last two Final Fours, likes the match.
"The people in the front office are very personable," Collison said. "Coach (Nate) McMillan is a good young coach. This team has a chance to be good a lot faster than a lot of other teams, plus there was a chance to play."
Ridnour, a native of Blaine, Wash., also was pleased with his new team. He made the two-hour drive south to Seattle to watch NBA games as often as possible while growing up.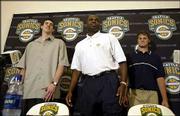 "I was always a fan of the NBA, but the Sonics were the team I followed," Ridnour said. "When they got into the playoffs, that was the team I rooted for. When they lost in the Finals, I was crushed."
At 22, Ridnour is too young to remember Seattle's 1979 NBA title. But he remembers the squad that lost to Michael Jordan and the Chicago Bulls in the 1996 NBA Finals. In fact, Ridnour remembers one player from that Sonics team particularly well: his new coach.
"He was real competitive," Ridnour said of McMillan. "He used to lock people up."
McMillan plans to install an up-tempo attack, and Schultz has no trouble envisioning both rookies in action next season.
"One of the mistakes many NBA teams have made over the years is not having the patience to keep young guys together," Schultz said. "We have a core nucleus we can build around. I'm really excited."
Later this summer, Collison will join Allen on the USA Basketball squad that will be qualifying for the Athens Olympics. When the 12-man roster was completed in May, Collison was the only college player included.
"Nick will be going against some of the top NBA players every day in practice," Sonics general manager Rick Sund said. "It will be a tremendous learning experience for him."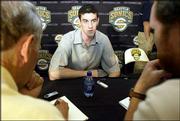 Both draft picks have created a buzz within the organization, enough to draw Allen to team headquarters for their news conference.
"Nowadays, teams draft for potential," Allen said. "They call a guy a project and say he's a couple of years away, but I think we can throw both of these guys into the mix early."
The Sonics have a young roster, anchored by the 27-year-old Allen. Swingman Rashard Lewis is 23 and sharp-shooting forward Vladimir Radmanovic is 22, as is Collison.
Copyright 2018 The Associated Press. All rights reserved. This material may not be published, broadcast, rewritten or redistributed. We strive to uphold our values for every story published.