Somewhere in a field in Idaho is a motor home filled with the tools of a diesel mechanic.
And Thursday, in a field in northeast Kansas, were that motor home's owners -- bedding down for a chilly night in what looked like a Conestoga wagon.
Since Sept. 12, Ron and Teresa Dakotah have been on the road in a homemade rig pulled by four stout horses -- a fifth tags along.
Bikes are strapped to the wagon's back, and a tiny wood-burning stove keeps them warm.
A shower head sticks off one end of the wagon, a Wall Drug bumper sticker is fixed on the back, and a dog named Dallas prances around a stake where his leash is tied.
Forget the motor home, the couple said. This is the way to go.
The trip, which started in Arco, Idaho, and is so far a one-way excursion, doesn't have a well-defined purpose, said the Dakotahs, who Thursday stopped to spend the night near Perry.
It's partly just to make people smile. And the faded "Worship Jesus Christ" on the side of their wagon suggests they have strong religious convictions and a desire to share them.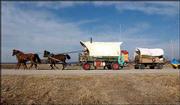 But more than that, the Dakotahs are reminiscent of the fictional Forrest Gump who "just felt like running."
They just wanted to see the country.
"And not see it on TV," said Teresa Dakotah, 45.
Doing so 1800s-style seemed like a good idea: Ron Dakotah, 60, had already gone through a couple of wagons and 11 years of such travel, and Teresa Dakotah knew how to rough it thanks to camping trips with her sons.
So last fall, they packed up Teresa's tools for storage. Ron quit his construction job. And despite concerns of friends who waffle between describing the Dakotahs as both wonderful and weird, they were off.
"My son told me I'm eccentric," Teresa said. "I went home and looked it up, and I went back to him and said, 'Yep, I am.'"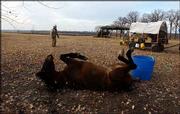 They average about 20 miles a day. Teresa sits in the front of the wagon by the stove and talks to her bundled-up husband as he guides the team of horses.
They stop in small towns where residents greet them with open arms, hot showers and a place to park. At night, they listen to National Public Radio, and when they need money, they stop and work.
The couple spent a few weeks in Sioux City, Iowa, making some money by working with horses, and they plan to do the same in Oklahoma.
But they don't stay anywhere long.
"Teresa's got itchy feet," Ron Dakotah said. "She can't help it. She's a roadie."
They're headed to Muskogee, Okla., and then the Rocky Mountains. After that, who knows. Maybe they'll go back for the abandoned motor home, and maybe they won't.
For now, they're having too much fun meeting new people. One of their favorites was the Indigenous Nations chief they met in South Dakota. But they like the everyday visitors, too, people like McLouth resident Candy Braksick, who wander by.
"This would be an adventure," Braksick said Thursday as she studied the wagon.
The couple keeps a scrapbook filled with newspaper clippings from cities such as Billings, Mont., and Yankton, S.D. Pages are devoted to the business cards they have accumulated, and a calendar serves as an informal travel log.
Teresa Dakotah said she managed to lose a day somewhere along the way.
"I discovered it was Thursday and not Wednesday," she said.
The only bad luck they've had in more than four months is a sick horse. And they said there's not much about home -- or the creature comforts it provided -- that they miss.
"Maybe the toilet," Teresa said. "But that's about it."
Copyright 2018 The Lawrence Journal-World. All rights reserved. This material may not be published, broadcast, rewritten or redistributed. We strive to uphold our values for every story published.