Lawrence school board candidates Wednesday began formation of a coalition opposed to consolidation of elementary schools and the district's $59 million bond issue.
"We will have to work together as a team -- get elected together as a block -- to be effective," said candidate Michael Pomes, an activist in the Park Hill Neighborhood Assn.
Pomes attended the 90-minute gathering of bond-issue foes with candidates Cille King, Leonard Ortiz and Rich Minder's representative, Burdett Loomis. About 30 people attended the session at Lawrence Public Library.
Arly Allen, who helped organize the meeting, said a formal anti-bond alliance was likely to emerge.
"These are all people who feel an interest in preserving neighborhood schools," Allen said.
The school board voted 6-1 to ask district voters to approve construction projects at nine elementary schools and six secondary buildings. The $59 million bond would be paid off over 20 years. The board also agreed to close Riverside, Centennial and East Heights elementary schools.
Ortiz, an adjunct history teacher at Kansas University with two children at Schwegler School, said the board's focus on facilities was misplaced.
"What makes good students is good teachers," he said.
King, who ran unsuccessfully for the school board four years ago, said that if elected she wouldn't waver in her commitment to keep all schools open.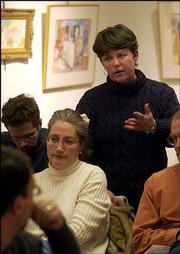 Two board members -- Austin Turney and Leni Salkind -- were elected on save-the-schools platforms but have endorsed consolidation.
"I hope I'm stronger than that," King said.
Loomis stood in for Minder, who is coordinator of the Success by 6 Coalition of Douglas County. He said Minder believed the board's decision on the closures ignored views of people living in neighborhoods undermined by the decision.
"Rich is running for neighborhoods, for kids -- really for a fresh look at education in Lawrence," Loomis said. "We really can do better in this community."
Pomes, who has an adult daughter who graduated from Lawrence High School, said all four vacancies on the board needed to be filled by anti-bond candidates. If this bond proposal fails, he said, there needs to be a new majority on the board when drafting the next bond plan.
"With the current board, we're dealing with a process that is out of control," he said.
Thirteen candidates filed. The Feb. 25 primary cuts the field to eight. The general election and bond vote will be April 1.
Other candidates opposed to the bond and consolidation are Ron Powell, Eddie Lehman, Samuel Gould and Brent Garner.
Candidates in favor of both are Cindy Yulich, Scott Morgan, Mary Loveland, Sue Morgan and Gordon Longabach.
Copyright 2018 The Lawrence Journal-World. All rights reserved. This material may not be published, broadcast, rewritten or redistributed. We strive to uphold our values for every story published.