If you want to learn about Chinese New Year, just let Jim Wong serve as your guide.
Wong, 52, comes from northern China and has owned -- along with his father, Chun-Hung Wong, who is now retired -- Royal Peking Restaurant, 711 W. 23rd St., since 1974.
It's safe to say the younger Wong knows his way around the 15-day holiday, which starts Saturday and is of supreme cultural importance on the Chinese lunar calendar.
Wong especially has this subject down cold when it comes to the traditional foods that Chinese people and millions of Asians around the world consume in order to symbolically usher in a new year that will hopefully bring plenty of blessings.
The holiday, which also is called the Spring Festival, revolves around two things: family and food. This is never more the case than on New Year's Eve and the first day of Chinese New Year.
"Just like Christmas, people have a big banquet together. They're talking about having good health, a good life. You celebrate to bless a good year coming," Wong said. "Even a lot of Koreans, Japanese, Vietnamese and Indonesians celebrate -- everywhere the Chinese people spread out."
Because China is so vast, the dishes people like to eat for New Year's vary from region to region. In southern China, for example, the favorite and most typical dishes are nian gao, a sweet, steamed rice cake, and zong zi, rice wrapped in reed leaves. In the north, man tou, steamed wheat bread, and small, meat dumplings are the preferred foods.
Oh yes -- dumplings.
"This is the main thing," Wong said.
People from the north love boiled dumplings, most commonly filled with pork, but they also can be stuffed with vegetables, shrimp or fish.
Inside some of the dumplings, a coin called "lucky money," is hidden. The person who gets such a dumpling can be said to expect good monetary fortune in the year ahead.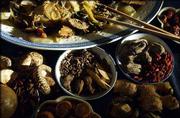 Other dumplings contain a dried, red date, which is supposed to bring good luck.
But, contrary to what most Westerners might expect, a traditional meal to celebrate Chinese New Year does not end with diners passing around a plate of fortune cookies.
"That's American Chinese stuff," Wong said, wrinkling his nose. "In China, we don't eat them."
Chance for fresh start
Lucy White has fond memories of celebrating Chinese New Year as a child in Taiwan.
"It was a big event for me when I was growing up. We were very poor then. We didn't have luxuries like kids have now. We waited all year to get what we wanted," White said.
"We had chicken, fish and duck, and parents would go out to buy all the necessary items to celebrate. It is a big deal. My parents would clean the whole house, in and out, to welcome the new year."
White, who came to the United States from Taiwan in 1972, helps manage two Chinese restaurants that her family members own: Plum Tree, 2620 Iowa; and Panda Garden, 1500 W. Sixth St.
Chinese New Year is still an important holiday for White, her parents and her brothers and sisters, almost all of whom have emigrated to Lawrence.
"We're going to get together at Plum Tree for a feast New Year's Eve after the restaurant closes. We'll have about 30 people -- you won't believe it. We'll have a reunion, so to speak," she said.
"I will get a lot of fish, all kinds, especially steamed flounder. We're going to cook duck, my favorite. Vegetables, shrimp, dumplings. Definitely we'll have a sweet, steamed rice cake."
There also will be tangerines, oranges and sweet dried fruit, all to symbolize abundance in the coming year. Everything will be served whole -- duck, chicken and fish -- with head and fins or feet intact. That signifies family togetherness.
"Food is symbolic and very meaningful. Chinese are based on an agricultural society. Chinese New Year gives them hope that a good year will come to them, they can start over," White said.
Food has deeper meaning
Pok Chi Lau is busy cooking up a storm to show what an authentic meal of the kind served for Chinese New Year really looks like.
"No messing around here. I'm going to teach my son, too," said Lau, 52, a professor of photography at Kansas University.
"I think I ought to do that now that my son is getting older, so that he can retain that identity, so that he knows something more than just Christmas and Thanksgiving."
Tyler Lau, 14, is an eighth-grade student at South Junior High School.
The Lau family's southwest Lawrence kitchen is an emporium of ingredients for Chinese cuisine: dried cuttlefish, dried codfish bladder, soy bean curd, deer heart given to him by a hunter friend, shark fin and wood fungus.
The freezer is loaded up with bass and crappie Lau caught himself in recent weeks, and the refrigerator's stuffed with bags of fresh vegetables.
"Food is the most important thing in Chinese culture -- the same position as heaven," said Lau, who learned to cook in a Chinese restaurant called Mei Mei in Halifax, Nova Scotia.
The feast he's preparing will be served to friends coming over for dinner: a mixed seafood and vegetable soup; steamed white bass with green onions; and duck, cooked slowly in its natural juices, along with star anise, nutmeg, fragrance wood, cinnamon bark and dried dates.
On the platter with the duck, Lau has arranged a nest of rice vermicelli beside a black tangle of what the Chinese call "hair vegetable," due to its stringy appearance.
Lau uses the dark vegetable and the pale-colored noodles to form the black-and-white Yin-Yang symbol of harmony in Daoist belief.
"A lot of these foods have to do with meaning. Food is the appreciation of abundance," he said.
In Chinese, for example, the word for "hair vegetable" sounds just like the phrase for "making a lot of money," so it's an auspicious ingredient to put in a meal served at Chinese New Year.
Lau, who is well known among friends for his skill at Chinese cooking, has had to develop this talent on his own.
He certainly didn't learn it at home, growing up in Hong Kong.
"My mom was such a lousy cook, I couldn't stand it. Everything was boiled," Lau said.
Copyright 2018 The Lawrence Journal-World. All rights reserved. This material may not be published, broadcast, rewritten or redistributed. We strive to uphold our values for every story published.