By summer, area shoppers should be able to take a virtual European vacation by traveling to a newly renovated shopping area in the 900 block of Massachusetts Street.
The owners of Brits and Au Marche confirmed Friday that they have signed a deal to move their European specialty stores into the former Stoneback Appliance building at 929 Mass. by early May. The owners of Brits are Sally Helm and Susie Pryor, who also own part of Au Marche with Lora Duguid.
The business owners hope that by locating in the same building they'll be able to become a one-stop shop for customers interested in European foods and specialty items.
"We think we'll both gain more exposure and customers by being together," Lora Duguid, managing owner of Au Marche, said. "We often find one person who shops at one store doesn't know the other one exists."
Brits, 732 Mass., has been open eight years and carries a variety of teas, chocolates, biscuits, sodas, videotapes and other items that are popular in Britain but hard to find in America.
Au Marche, 21 W. Ninth St., has been open four years and carries mainly cheeses, chocolates, meats, jams, mustards, coffees and other food or drink items from European countries other than Britain.
"We like to say that Brits does the U.K. and we do the continent," Duguid said.
Duguid and Helm said they thought the new location would be able to serve as a small "international shopping" area for their two main groups of customers -- Americans who have traveled to Europe and former European residents who now live in Lawrence.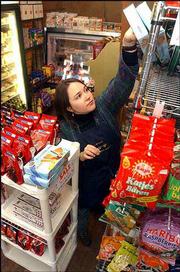 "When people travel to Europe, they almost always find one dish or one type of food that they think is so fantastic that they have to have it when they return," Duguid said. "We'll cater to that. We'll try to set it up so they can re-create that vacation feeling here."
The greater visibility also may make it easier for international students to visit the store.
"We already have a lot of European students who come here over Christmas break because it helps them with their homesickness," Duguid said.
Brits and Au Marche each will take half of the approximately 3,000-square-foot building, which is being remodeled by its owner, Sarah Fayman of Sarah's Fabrics, next door to the building.
The space will allow Au Marche to almost triple its size, while Brits' space will remain about the same. Helm said the new space would be arranged better and will give the business more space to run its mail-order business.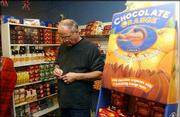 "We're really looking forward to it because it will give us a chance to revitalize everything and add some new products and try to do some of the ideas we've had over the past eight years," she said.
Duguid and Helm said they expected sales to increase at the new location, but they weren't sure how big of an increase to expect.
Both owners, though, said there seemed to be an increasing demand for their services.
"There is something about Britain or Europe that really gets some people hooked," Helm said.
Copyright 2018 The Lawrence Journal-World. All rights reserved. This material may not be published, broadcast, rewritten or redistributed. We strive to uphold our values for every story published.