Baldwin — Call it a crash course in rock 'n' roll.
Twenty-one days ago, the alternative rock band No Fidelity didn't exist. Friday, it will perform original material, sell its own CDs and T-shirts, and show its own music video.
The instant band is the product of 28 Baker University students enrolled in "Making the Band," an inter-term class taught by Rob Flaherty, associate professor of psychology.
"It's a lot of work in a small amount of time," said Terence Spencer, a senior from West Covina, Calif., and one of the band's vocalists.
Flaherty, who played in bands during college, invented the class this year to teach students about the music industry.
"It's all about promoting the band and putting everything together," he said. "We just got lucky we had talent."
On the first day of class -- Jan. 2 -- Flaherty asked whether any of the students could play instruments. A guitarist, bassist, drummer and trumpet player raised their hands. Two singers also were recruited, and Flaherty is playing keyboards.
Two students collaborated to write seven original songs for No Fidelity.
"We're a mix between Dave Matthews, Aerosmith and Incubus," Spencer said.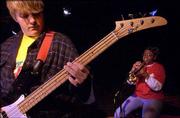 The students started the project by each donating $25. That gave them a starting balance of $700. Their goal is to pay themselves back and earn $1,000 to donate to Big Brothers-Big Sisters of Baldwin.
Their money is coming from several sources -- $10 T-shirts, $5 admission fees and CD sales. The recordings will cost $3 or $5.
A team of students designed and delivered fliers in Baldwin and area towns. They also designed a Web site, www.geocities.com/makingthebakerband.
Then there was the behind-the-scenes legal work, led by Phil Johnson, a senior from Leawood.
He's a business major who plans to attend law school. But he wasn't prepared for the amount of work required for the band, which included securing copyrights for songs and drafting contracts for the opening bands, A Perfect Excursion from Garden City and Aridium from Baldwin.
"I learned a lot," Johnson said. "I also learned I don't want to go in the music business."
Though the class may sound like fun compared to calculus or literature, Beth Herrman, a sophomore from Garden City, said the preparations had been stressful.
"Once the show is on, we'll get to have fun," she said.
Copyright 2018 The Lawrence Journal-World. All rights reserved. This material may not be published, broadcast, rewritten or redistributed. We strive to uphold our values for every story published.