Suspect arrested in public disturbance
A 30-year-old Lawrence man was arrested Monday evening for alternately shouting obscenities and preaching gospel as people passed by in the 2800 block of Iowa Street.
Police took the man to the Douglas County Jail after already responding to three other complaints about him elsewhere in the city, Police Lt. David Cobb said.
The suspect was taken to Lawrence Memorial Hospital for a mental evaluation before going to jail, Cobb said.
The man was released Tuesday but ordered to show at 3 p.m. Jan. 30 in Douglas County District Court for possible charges.
I-35, I-29 bridge over Missouri River closed
Kansas City, Mo. -- The Paseo Bridge, a main artery into downtown Kansas City, will be closed indefinitely because of structural damage that caused a 9-inch drop on one lane of the bridge.
The bridge was closed just before rush hour Wednesday, causing massive backups for commuters traveling on Interstates 35 and 29, headed into the city's northern suburbs.
The bridge will be closed at least through Thursday morning's rush hour because structural engineers need daylight to more closely examine the damage, Wright said. That investigation will determine how soon the bridge will be reopened.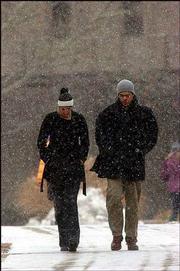 Ex-mayor won't fight disciplinary panel
Topeka -- Former Topeka Mayor Douglas S. Wright, accused of mishandling funds entrusted to him, does not plan to challenge the punishment recommended by a state legal panel.
A hearing panel of the Kansas Board for Discipline of Attorneys had previously recommended Wright be suspended from practicing law for three years. However, the panel has since changed its recommendation to five years' probation, subject to scrutiny and repayment of the money.
Between 1998 and 2002, the panel found that Wright took $86,250 without authorization from an account belonging to his 95-year-old great-aunt, for whom he had power of attorney. He repaid most of the money.
Copyright 2017 The Lawrence Journal-World. All rights reserved. This material may not be published, broadcast, rewritten or redistributed. We strive to uphold our values for every story published.