Colima, Mexico — Emergency crews dug into piles of collapsed cement and brick Wednesday to reach victims trapped by a powerful earthquake that killed at least 25 people, crumpling walls like paper, turning brick into powder and leaving steel reinforcement bars scattered like straws.
At least 300 people were injured in the 7.8 magnitude quake that hit western Mexico, civil defense officials said.
"All of a sudden the house came crashing down, and I was buried under a wall," recounted Colima resident Doris Janet Robles, 17, who was at a prayer meeting at a relative's house when the quake hit Tuesday night.
"I was suffocating, until my brother was able to get me out," said Robles, who was hospitalized for a broken pelvis.
President Vicente Fox flew Wednesday to Colima, where he spoke with state officials and toured the disaster area. "Let everyone in Colima know that we are with them," he said upon arrival.
In the city of Guadalajara -- Mexico's second-largest, more than 100 miles from the epicenter -- bells from one of colonial city's dozens of ancient churches fell from the tower and dozens of homes partially collapsed.
The quake also rocked Mexico City, 300 miles east of the epicenter, sending terrified residents fleeing into the streets, although the Mexican capital suffered little damage.
At least 10 quakes ranging in magnitude from 3.9 to 4.5 shook the coastal area following Tuesday's quake. The aftershocks did little additional damage, but one 5.8-magnitude temblor sent residents of Colima scurrying out of their damaged homes Wednesday afternoon.
In Colima state's capital, parts of downtown lay in ruins Wednesday, with collapsed adobe houses and cars crushed under piles of bricks. In all, 166 homes were destroyed in the capital, also called Colima, home to 230,000 people. Fox's government declared a state of emergency throughout the state.
The earthquake was centered southeast of the port and tourist center of Manzanillo, on the Pacific coast in Colima state. Power was knocked out in Manzanillo but damage was reported to be light.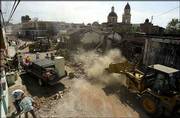 Copyright 2018 The Associated Press. All rights reserved. This material may not be published, broadcast, rewritten or redistributed. We strive to uphold our values for every story published.