University of Oklahoma women's basketball coach Sherri Coale knows the storied basketball history at Kansas University.
After OU's lackluster 61-49 victory Wednesday over the Jayhawks, Coale had a message for the legends that gave Allen Fieldhouse its mystique.
"I should apologize to Dr. Naismith and Phog Allen and all the great history here," Coale said, "because I thought that game was ugly."
In a contest marred by turnovers, mental blunders and a nearly empty fieldhouse, Kansas fell again in Big 12 Conference play despite hanging with the Sooners much of the game.
Only 506 fans saw KU lose its 21st straight Big 12 regular-season game.
"Down the stretch is where it's costing us," Kansas coach Marian Washington said. "We've got to work on our mental toughness."
It didn't hurt KU's chances that No. 22 Oklahoma has lost four key players this season to knee injuries, including All-America candidate Caton Hill.
But it didn't help that KU committed 30 turnovers, a glaring statistic that helped an early lead slip away.
"You can't win a lot of ballgames with 30 turnovers," Washington said.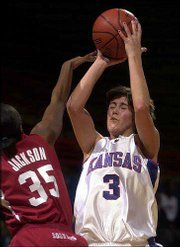 KU (7-9 overall, 0-5 Big 12) jumped to a 10-2 lead before the Sooners began chiseling away. Until OU's Dionnah Jackson scored with 4:27 remaining in the first half, the Jayhawks hadn't trailed.
After Jackson's basket, though, Oklahoma (12-5, 3-1) never trailed again. A pair of free throws by Crystal Kemp shaved OU's lead to 47-44 with 6:43 remaining, but the Jayhawks came no closer.
Kemp said she was encouraged by the Jayhawks' tenacity.
"It lets us know that our record doesn't indicate how good we can be," she said.
Kemp scored a team-high 15 points, picking up Tamara Ransburg's slack in the paint. Ransburg, who battled foul trouble, finished with eight points and four rebounds.
"I need to go out there and maintain," Kemp said. "Staying out of foul trouble was one of my goals tonight."
Saturday, Kansas travels to College Station, Texas, to take on Texas A&M;, and a Big 12 victory could fuel a Jayhawk turnaround.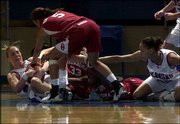 Just ask Coale.
"When they get one," she said, "things will get better."
The seventh-year Oklahoma coach's first Sooner squad earned a 5-22 record in 1997, including a 1-15 conference mark.
Last season, OU went 32-4, made the Final Four and finished one victory short of a national title.
Coale sees an eerie similarity between her early Sooner teams and today's Jayhawks.
"I know what it's like," she said. "I think those young kids will get better and better. They're incredibly athletic. We couldn't contain them a lot of times."
Copyright 2018 The Lawrence Journal-World. All rights reserved. This material may not be published, broadcast, rewritten or redistributed. We strive to uphold our values for every story published.