New York — Saying the law is not intended to protect people from their own excesses, a federal judge threw out a class-action lawsuit Wednesday that blamed McDonald's food for obesity, diabetes and other health problems.
U.S. District Judge Robert Sweet said the plaintiffs failed to show that the fast-food chain's products "involve a danger that is not within the common knowledge of consumers."
The lawsuit was filed against McDonald's last summer and sought unspecified damages.
"If a person knows or should know that eating copious orders of supersized McDonald's products is unhealthy and may result in weight gain ... it is not the place of the law to protect them from their own excesses," the judge said. "Nobody is forced to eat at McDonald's."
Plaintiffs' attorney Samuel Hirsch filed other, similar lawsuits last year. In one, a 270-pound city maintenance worker alleged that eating McDonald's, Wendy's, Burger King and KFC had caused him health problems. Those suits had been dropped or put on hold while Sweet considered the lawsuit against McDonald's.
The lawsuits became a lightning rod for pundits and editorial writers who jeered that they were the latest example of a litigious society in which people abdicate personal responsibility.
"Common sense has prevailed," McDonald's spokesman Walt Riker said. "We said from the beginning that this was a frivolous lawsuit. Today's ruling confirms that fact."
On Wall Street, McDonald's stock was up 7 cents at $15.41 on Wednesday afternoon.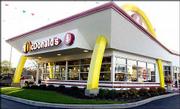 Hirsch said the lawsuit would be amended and refiled within a month.
Hirsch had argued that the high fat, sugar and cholesterol content of McDonald's food is a "toxic kind of thing" when eaten regularly by children.
He said that consumers may generally understand that fast-food burgers and fries were not health food, but did not realize just how bad such fare could be.
He cited the case of a 13-year-old New York City boy who said he ate at McDonald's three or four times a week and is now 5-foot-4 and 278 pounds.
"They have targeted children," Hirsch said.
Copyright 2018 The Associated Press. All rights reserved. This material may not be published, broadcast, rewritten or redistributed. We strive to uphold our values for every story published.