New York — Secretary of State Colin Powell warned a skeptical United Nations on Monday that the world "must not shrink" from confronting Iraq if it fails to disarm, brushing aside last-ditch offers by Baghdad to cooperate more fully with U.N. weapons inspectors.
But China, France and Germany staked out strong anti-war positions, raising the real possibility that President Bush may not win U.N. Security Council backing if he decides to use force against Saddam Hussein.
Hardening the Bush administration's argument that Iraq has failed to come clean about its weapons of mass destruction, Powell said the responsibility now rests solely on Baghdad to avoid a war by quickly complying with the Security Council's demands for surrender of its presumed stocks of chemical, biological and nuclear materials.
Powell dismissed as "just more of the same" Iraq's offer to provide more help to the inspection teams, an action announced Monday in Baghdad after a visit by the two chief U.N. inspectors. Iraqi officials pledged to encourage weapons scientists to submit to private interviews with U.N. inspectors and promised to search harder for banned munitions such as the empty chemical-weapons warheads found in two locations in recent days.
"We cannot be shocked into impotence because we are afraid of the difficult choices that are ahead of us," Powell told the Security Council one week before it will receive a crucial status report from the U.N. inspectors.
"However difficult the road ahead may be with respect to Iraq, we must not shrink from the need to travel down that road," Powell added. For emphasis, he repeated four times his admonition to the Security Council not to shrink from its responsibilities.
But the foreign ministers of France and China -- two key Security Council members that have veto powers -- said they would resist any attempt by Washington to cut short the work of the weapons inspectors and seek a fresh U.N. resolution authorizing war. Germany, which has a rotating seat on the council, flatly rejected military action and said such action could bring "disastrous consequences" to the Middle East.
"Using force would only be an ultimate resort, assuming that every other possibility has been exhausted," French Foreign Minister Dominique de Villepin said. "We believe that today, nothing justifies envisaging military action."
Chinese Foreign Minister Tang Jiaxuan said the inspectors' report due next week "is not a full stop of the inspection work but rather a new beginning. I think we should respect their opinion."
But Powell sharply disagreed in later comments.
"This is not the beginning," he said, noting that Baghdad has been frustrating Security Council disarmament demands since the Persian Gulf War in 1991, and has failed to cooperate with the latest Security Council resolution approved unanimously in November.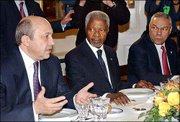 "There's no question that Iraq continues not to understand the seriousness of the position that it is in, and this is the time for it to realize that we will not just allow Iraq to frustrate the will of the United Nations, of the international community," Powell said.
Only Britain, America's staunchest ally, publicly stood by the Bush administration in its eagerness to bring the Iraq issue to a head.
"There comes a moment when our patience must run out," Foreign Secretary Jack Straw told the Security Council. "We are near that point with Iraq."
Britain announced Monday it was sending an additional 26,000 troops -- one-quarter of its army -- to the Persian Gulf in case of war against Iraq. The soldiers would join 5,000 other British troops and nearly 150,000 U.S. troops that will be positioned in the region by mid-February, which because of cool weather represents an optimum strategic time for an attack.
Chief U.N. weapons inspectors Hans Blix and Mohamed ElBaradei will report to the Security Council Monday on the results of their first 60 days of inspections. Two days later, only hours after President Bush is scheduled to deliver a State of the Union message expected to focus on Iraq, the council will open debate on the next step to take.
Blix and ElBaradei already have complained about Iraq's grudging cooperation with their efforts, and although their teams have unearthed some suspect chemical munitions they have yet to produce any dramatic "smoking gun" discoveries. The two U.N. officials will ask the Security Council to give them more time to complete their work.
But the Bush administration strongly opposes any extensions and insists the burden is not on the inspectors to find Iraq's weapons but rather on Baghdad to demonstrate its willingness to disarm.
Copyright 2018 The Lawrence Journal-World. All rights reserved. This material may not be published, broadcast, rewritten or redistributed. We strive to uphold our values for every story published.