Baltimore — With his face hidden beneath a dark hood, a man crept into a bitterly cold downtown graveyard before dawn on Sunday and raised a solitary birthday toast to Edgar Allan Poe.
Continuing a 54-year tradition, the man, whose identity remains unknown, put his hand on Poe's tombstone, bowed, placed three red roses and a half-empty bottle of cognac on the grave and then silently slipped back into the shadows.
A huge, pale-white moon glowed over the city, yet the man still eluded dozens of people who waited in their cars or huddled together on the sidewalk outside the cemetery.
"To me, it's magic," said Jeff Jerome, curator of the Poe House and Museum, who spent the night tucked inside a former Presbyterian church nearby with a small group of Poe enthusiasts he invited to watch the ritual.
"It would be very easy to step out from our hiding place and expose him, but no one wants to ruin this mystery."
No one, not even Jerome, who has watched the cemetery every Jan. 19 since 1976, knows the identity of the so-called "Poe Toaster." The visit was first documented in 1949, a century after Poe's death. For decades, Jerome says, it was the same frail figure.
Then, in 1993, the original visitor left a cryptic note saying, "The torch will be passed." Another note left later told Jerome that the first man in black, who apparently died in 1998, had passed the tradition on to his sons -- Jerome thinks there are either two or three. Such notes are the only communication anyone has had with the visitor.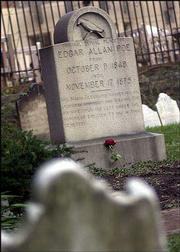 A combination of respect, the visitor's cunning, and the chill of Baltimore on a January night have kept the curious from uncovering the secret.
Poe, who is best-known for poems and horror stories such as "The Raven" and "The Telltale Heart," died in Baltimore at the age of 40 after collapsing, delirious, in a tavern. The cause of his death remain unclear.
The visitor's three roses are thought to honor Poe, his mother-in-law, Maria Clemm, and his wife, Virginia, all of whom are buried in the graveyard.
The significance of the cognac is a mystery.
Copyright 2018 The Associated Press. All rights reserved. This material may not be published, broadcast, rewritten or redistributed. We strive to uphold our values for every story published.