Las Vegas — Download your favorite TV show and take it on the road for viewing. Or wirelessly stream music from your computer hard drive to the living room stereo. Too lazy to fetch those peanuts from the kitchen? Send your personal robot.
The gadgets were smarter, cheaper and smaller than ever this year at the trendsetting International Consumer Electronics Show.
And more slick doodads than ever were on display. Many were silver. Most are aimed for store shelves in time for Christmas. Many will never arrive.
The items, hogging an unprecedented 1.2 million square feet of floor space in the Las Vegas Convention Center and surrounding hotels, run from minuscule Cirrus Logic chips to gallon-sized lime-green refrigerators to a Lamborghini sports car with booming Zapco amplifiers.
The 100,000 attendees and almost 5,000 journalists and analysts pawing the devices seemed most excited about Internet-connected DVD players, personal digital assistants with cameras and guidance abilities and a one-eyed, one-armed robot.
Big things in small packages
In a square silver box that flips open like a compact, Panasonic has managed to fit a digital video camera, a 2-inch color screen, an MP3 player and voice recorder.
The $400 Panasonic AV-30, which hits stores in April, is aimed at folks who want to shoot quickie videos as well as those who'd plug it into a TV to record a favorite show to watch later, say, on the train. It stores video and stills on tiny secure digital cards, which can hold up to a gigabyte of data.
Panasonic and Sony also touted new digital video camcorders that record directly onto 3-inch DVD disks.
Panasonic's palm-sized DVD VDR-M30 records up to an hour's worth of video on each disk. It's expected to sell for $899 in March. Sony's three similar models, featuring top-of-the-line Carl Zeiss lenses, will start selling this summer at prices starting below $1,000.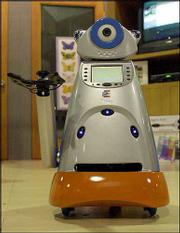 Sony also introduced an upgraded $800 Clie hand-held computer with a 2-megapixel autofocus camera -- more sophisticated than cameras on other organizers and phones. It hits stores next month.
Garmin, maker of global positioning satellite receivers, touted a $589 GPS-enabled handheld called the iQue that lets users know where they are -- as long as they're within range of a satellite signal. The iQue uses voice guidance to give street-by-street directions and is expected to start selling in midyear.
Both organizers use the Palm 5 operating system.
Latest in DVDs
The show floor was lousy with DVD players and personal video recorders. A few stood out, like SONICblue's Go-Video D2730, a DVD player that networks with a PC.
Besides recording television programs onto a hard disk or a DVD, the $249 machine lets users shuttle pictures, music and video from a computer to a TV screen. The machine can even stream wirelessly if users purchase an add-on network card that uses the high-speed 802.11b, or WiFi, network standard. Once networked, the PC can be searched by clicking on the Go-Video's remote control. The machine is supposed to reach stores before April.
Hewlett-Packard announced a similar slim box, the $299 Digital Media Receiver 5000, which also can be wirelessly networked with multiple PCs via WiFi. A wires-only version will sell for $199.
H-P's spring release of the device has the PC maker playing the home networking game from both sides. Its Media Center PC has many of the same capabilities but is centered on the computer. The Digital Media Receiver is for those more comfortable with a TV-centered living room.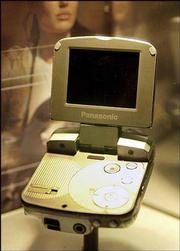 In the same category, Toshiba displayed its $1,000 DVD-RAM RD-X2 recorder, which allows folks to burn DVDs or record TV programs to an 80-gigabyte hard drive, edit out the commercials, then burn them to a DVD.
Video recording eats lots of disk space.
For hoarders, hard disk maker Maxtor offers its 5000 XT external hard drive, a $400 unit the size of Roget's Thesaurus that holds a mind-bending 250 GB of data.
Hot miscellaneous items
For folks who might want to see whether a telemarketer has an honest face, networking hardware maker D-Link offered a $299 videophone, which displays a caller's picture on the home TV.
The device works over a broadband connection -- and of course the telemarketer would need one, too.
To hold roving videoconferences inside the home, Evolution Robotics demonstrated its vaguely humanoid ER2 robot, which can wheel itself into, say, the bedroom of a sleeping child or aging aunt and transmit audio and video.
The machine can be sent on other errands, of course, and can read books held up to its eye-sensor and play music from a CD when you show it the disc's cover.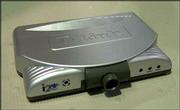 Evolution Robotics has no plans yet to produce or sell the ER2 but offers a stripped down, unprogrammed model for $499.
Off to a slow start
Speakers at the show said sales of the home networking products that generated such excitement would be flummoxed by Americans' reluctance to embrace high-speed Internet access.
While broadband gradually comes to life in the United States, pickup in the United Kingdom is so bad that Internet vendor British Telecom sought incentives to boost subscriptions.
The carrier contracted with England's Promotion & Display Technologies to build a football-shaped Internet radio that it plans to give away to new broadband customers.
The device connects wirelessly to a PC and allows users to surf Net music destinations by twiddling radio dials.
Kinda low-tech, don't you think?
Copyright 2018 The Associated Press. All rights reserved. This material may not be published, broadcast, rewritten or redistributed. We strive to uphold our values for every story published.