Washington — The Bush administration told the Supreme Court Thursday that university admissions programs that gave an edge to minority students were unconstitutional and ignored race-neutral alternatives that could boost minority presence on campuses.
The administration urged the high court to strike down admissions policies at the University of Michigan and its law school.
The admissions policies amount to unconstitutional quota systems and unfairly discriminate against white students, the administration argued in a friend-of-the-court brief filed in the lawsuit challenging the Michigan school's practices.
Solicitor General Theodore Olson wrote: "The court should hold that the university's race- and ethnic-based undergraduate admissions policies are unconstitutional because proven race-neutral alternatives to achieving the laudable goals of educational openness and diversity remain available."
Both admissions policies fail the constitutional test of equal protection for everyone under the law and cannot be reconciled with previous Supreme Court rulings that severely limit the use of race as a factor in government decisions, Olson wrote.
The filings do not go as far as some of President Bush's most conservative supporters had hoped.
The administration did not stake a categorical position against any use of race in university admissions, and did not ask the court to overturn an affirmative action ruling that for 25 years has allowed some role for an applicant's race.
The case marks the court's first statement on racial preference programs in academic admissions since the 1978 Bakke case, which affirmative action critics and backers alike say has muddied the waters for a quarter-century.
The 1978 case, the last college affirmative action case at the high court, involved Allan Bakke, a white man rejected for admission to a California medical school while minorities with lower test scores got in through a special program.
The court on a 5-4 vote outlawed racial quotas in university admissions, but left room for race to be a "plus factor."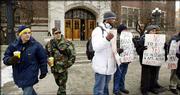 Copyright 2018 The Associated Press. All rights reserved. This material may not be published, broadcast, rewritten or redistributed. We strive to uphold our values for every story published.