The difference between Free State High's boys basketball team and Olathe South's was two words.
Free throws.
Sure, the Falcons had fewer turnovers and more offensive balance, but their 56-51 victory on Tuesday at the FSHS gym was the product of their superiority at the line.
"Without question," FSHS coach Jack Schreiner said. "We played our tails off. We didn't get beat by Olathe South because they played harder than we did; we got beat because we missed 17 free throws."
FSHS (6-2) finished 11-of-28 shooting from the stripe; the Falcons, by contrast, hit 18 of 25 free throws.
Ignore the Firebirds' higher shooting percentage from the field and their 31-20 dominance on the boards. Missed foul shots sunk the Firebirds.
Free State senior Keith Wooden had a huge night. He scored 26 points, grabbed 10 rebounds and blocked four shots. But his numbers from the free-throw line stood out as a sore point: 6-of-18 shooting.
Missed free throws kept Wooden from an amazing performance and were the biggest reason Olathe South (7-0) remained unbeaten. Wooden was fabulous everywhere else -- hitting 10 of 12 shots and intimidating on defense -- turning in a memorable night, except for those free throws.
"Without looking at the stats, I gotta believe that's the finest game he's ever played in a Free State uniform," Schreiner said.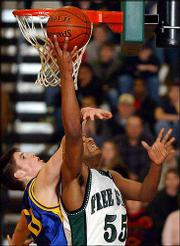 It started early, too.
Olathe South, ranked No. 1 in Class 6A, took it at Wooden with its twin towers, 6-foot-6 juniors Caleb and Nick Holmes. But the 6-9 Wooden blocked two of Nick's shots in the first minute, then hit a jumper of his own as FSHS took the early lead.
It was the Firebirds' only lead of the game.
Falcon senior Ryan Rundberg answered with a jumper and three straight three-pointers as the Falcons jumped ahead 15-13. Thanks to Wooden -- who had 12 of their Firebirds' 13 points -- FSHS hung tough but never could retake the lead.
Schreiner called on junior Dain Dillingham to contain Rundberg and asked the Firebirds to keep working the ball inside to Wooden on offense. Both worked, as Dillingham held Rundberg to two more points on 1-of-8 shooting, and Wooden continued to get his points.
But the Falcons did just enough to keep FSHS at bay.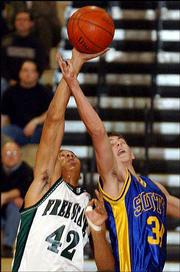 "It was tough, especially when you're down," Dillingham said. "You want to force them into a mistake, but instead you can make a mistake. But that's why O-South's the No. 1 team."
The Firebirds made another run at the start of the fourth quarter, with a lay-up and a three-pointer by junior Cole Douglas, to cut South's lead to 44-43 and seemed poised to take the lead. But Wooden missed the front end of a one-and-one, and South used a 5-0 run of its own to get some breathing room.
FSHS stuck around after sophomore Brady Morningstar hit a three and senior Cameron Karlin drove for another hoop, cutting its deficit to 49-48. But more missed free throws, by Dillingham and Wooden, let the Falcons keep their lead -- and get the win.
"I'm still awfully proud of the way we played," Schreiner said. "I really hope we get another shot at those guys."
Copyright 2017 The Lawrence Journal-World. All rights reserved. This material may not be published, broadcast, rewritten or redistributed. We strive to uphold our values for every story published.