Topeka — Westar Energy Inc. told state regulators Friday it couldn't meet a deadline for reducing its debt and asked that its chief executive be allowed to give new testimony about the company's finances.
Westar also suggested an order issued in December by the Kansas Corporation Commission, which regulates utilities, decreased the value of stock in the Protection One security alarm firm. Westar owns 88 percent of Protection One and critics have suggested the security firm has been a drain on Westar.
In December, the KCC told Westar it had until Feb. 6 to file a plan for restructuring the company and dealing with its debt. The order gave the company until Aug. 1 to pay off $1.4 billion of its $3.6 billion in debt and included provisions dealing with the financial relationship between Westar and Protection One.
Westar says it can't pay off as much debt as the KCC wants as quickly as the commission wants. The company said it was committed to selling off nonutility assets to raise cash to pay down debt but, "it is essential that the value of the assets to be sold is maintained."
The company also said allowing chief executive officer Jim Haines to submit new testimony about Westar's future plans would allow the KCC to evaluate the company's commitment to improving its finances.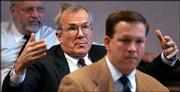 The filing came one day after Westar announced a deal with ONEOK Inc., a Tulsa, Okla., natural gas company, under which ONEOK will buy back up to $250 million of its own stock now held by Westar, which would then use the cash to pay off debt.
The company on Friday also announced Paul Geist has resigned as chief financial officer but will remain in place as the company's treasurer. Westar said the appointment of a new CFO should come soon.
Copyright 2018 The Associated Press. All rights reserved. This material may not be published, broadcast, rewritten or redistributed. We strive to uphold our values for every story published.