Two leopard geckos rescued nearly two months ago from "deplorable conditions" in a Lawrence exotic pet shop are off the critical list and entertaining students at Prairie Park School.
"It took them awhile, but they're moving around and eating a lot," said Kathryn Williams, who has the small lizards on display in her classroom.
Williams' classroom also has a California king snake and four hermit crabs. They, along with the geckos and dozens of other critters, were removed in November from Scales and Tails Exotic Pets, 2201 W. 25th St., when the store's owner agreed to shut down under a consent agreement with the Kansas Animal Health Department.
The store's owner, Bryan Chester, signed the agreement after two inspections revealed the likelihood he had violated the Kansas Pet Animal Act by not following rules for operating a pet shop.
In September, Chester's store failed an inspection. Kittens found in the store with watery or matted eyes were quarantined because they came from Missouri without state-required health papers. The quarantine was later rescinded.
The store also was found to be dirty and odorous, according to a report filed by the inspector.
On Nov. 18 an animal health inspector reported finding several dead animals in the shop, including eight rats, a gerbil and a mouse.
"There was one rat that was cannibalizing another," said Debra Duncan, director of animal health.
Other animals found included nearly 30 nonpoisonous snakes, a Savannah monitor lizard, water turtles, chameleons, fish, spiders and scorpions. Most of the animals were in poor physical condition because sanitation was deplorable and many of the animals did not have food or water, according to the consent agreement.
The inspector reported finding bloated rat carcasses and boa constrictors and other snakes in dirty cages "with lots of feces" and no food or water.
"It's not unusual to go into a pet store and find a dead lizard that needs to be removed that day, but there were a lot of dead animals here," Duncan said.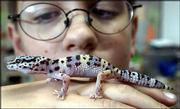 If Chester had not signed the consent agreement and closed his store voluntarily, the state could have taken action to seize the animals and do it for him. Chester also could have been fined as much as $1,000 for each violation.
Most of the animals were taken to Prairie Park Nature Center, where they were put up for adoption. Lawrence schools adopted virtually all of the animals, center officials said. Most of the animals recovered physically.
One tortoise, however, was so dehydrated it couldn't push its head out of its shell, Duncan said. The tortoise was adopted by one of the classes at Prairie Park School but it didn't recover and was taken to a veterinarian to be euthanized, Williams said.
Chester couldn't be reached for comment. A Lawrence phone number for him had been disconnected.
Records show Chester submitted an application for a pet shop license Sept. 10 and it was granted on Sept. 24, only weeks before the store was closed.
Copyright 2018 The Lawrence Journal-World. All rights reserved. This material may not be published, broadcast, rewritten or redistributed. We strive to uphold our values for every story published.