It seems as if John Paul Johnson was destined to go into a career in music.
When he was in high school, the doors to some possible vocations appeared to close, one after the other.
"I wanted to be an architect, but I was bad in geometry," says Johnson, 48. "I thought about taking over a relative's funeral home, but I didn't like science."
Later, while in college, Johnson considered going into seminary.
"But a bad grade in my undergraduate New Testament class changed all that," he says, laughing.
It wasn't until his third year of working as choral and general music specialist in the Lampeter-Strasburg School District in Lampeter, Pa., that Johnson decided he wanted to be involved in music and education for the long haul.
"I remember that whole year, there wasn't a day that I didn't look forward to going to school. At that point, I knew that I wanted to be a teacher and a musician/choral instructor," says Johnson, the director of music ministries at First United Methodist Church, 946 Vt.
"I'll always think of myself as a teacher first. But it's the music that gives me the opportunity to be a teacher."
It appears Johnson chose the right career.
In September, he became director of choral activities and professor of music at Kansas University, where he's in charge of an internationally recognized choral program that comprises more than 280 singers in six ensembles.
Before that, Johnson served as director of choral activities from 1989 to 2002 for the School of Music at Southwest Texas University in San Marcos, Tex.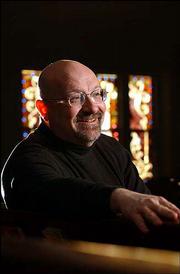 There he directed a nationally recognized choral program encompassing 350 singers in 10 ensembles.
He also served as director of music ministry for the 1,200-member First United Methodist Church in San Marcos from 1992 to 2002.
Johnson, who will be installed during Sunday worship services, is excited about this latest opportunity at First United Methodist.
"I really like the philosophy of this church, its openness to the community and its great heritage. But mostly, I really feel a calling to be involved in music ministry in some way," he says.
Right person for job
One Sunday last September, after Johnson, his wife, Ann, and his 15-year-old daughter, Laura, moved to Lawrence, he attended a worship service at First Methodist.
He heard the choir sing and happened to meet the Rev. Sharon Howell, the church's senior pastor.
Johnson learned that the congregation was looking for a new director of music ministries, and Howell sent him the job description in October.
Johnson was chosen from among 16 applicants for the position. He replaces Rob Reid, who served in that capacity for eight years before moving to Minnesota in December 2001.
Howell believes First Methodist has found the right person for the job.
Name: John Paul Johnson.Age: 48.Position: Director of music ministries at First United Methodist Church.Career highlights: September 2002-present -- director of choral activities and professor of music at Kansas University. ... 1989-2002 -- director of choral activities for the School of Music at Southwest Texas University in San Marcos, Tex. ... 1992-2002 -- director of music ministry for First United Methodist Church in San Marcos.Family: Wife, Ann; daughter, Laura.s="navdots">¢
"I feel like we've been given an absolute gift. People in the community and our congregation have come up to me and said, 'Wow -- how did we manage that?'" she says.
"When you blend his musical credentials and his faith, John Paul is just a marvelous witness for the United Methodist Church."
Johnson feels like it's a good fit, too.
"For someone who is going into music ministry part time, this is a candy store. You've got a great staff, a welcoming congregation, a wonderful church and bell choir, exciting traditional and contemporary worship, amazing instruments and a great music library," he says.
"This is a congregation that values a strong music ministry."
Lots of plans for church
Johnson will have a number of responsibilities at First Methodist.
He'll conduct the church's 35-member Chancel Choir and its 15-member bell choir, called the Celebration Ringers.
He'll plan the music for the 8:30 a.m., 9:40 a.m. and 11 a.m. Sunday worship services, choosing the hymns and any special music. He'll also assist with the 9:40 a.m. contemporary worship service.
"One of the challenges will be to find the right music to take the congregation through a meaningful, flowing experience that makes sense and fits in with the pastor's sermon," Johnson says.
"And it's always a challenge, and a delight, to work with adults on a very short basis every week and try to make them sound the absolute best that they can be."
Johnson has a background in both traditional, sacred music as well as contemporary music worship. He hopes to help the congregation and church staff feel comfortable in both of these areas.
"I have a goal to help build the worship services to be a cohesive whole, something that is thought-provoking and builds to the sermon. I'd like to continue to build the Chancel Choir; I have some dreams for them. I would like to see this choir do some travel together, go to Europe," Johnson says.
Overall, Johnson -- who has a doctorate in music and choral education from the University of Wisconsin -- has 29 years of experience in church music ministry.
He's glad he'll now be able to continue that work in Lawrence.
"In my own, personal faith walk, I find it to be important to share what people call my gifts, and music is the avenue where I feel I can best serve," he says.
Copyright 2018 The Lawrence Journal-World. All rights reserved. This material may not be published, broadcast, rewritten or redistributed. We strive to uphold our values for every story published.