Los Angeles — Authorities moved in Friday to enforce a judge's order that an environmentalist be removed from a 400-year-old oak tree he hopes to protect from a road-widening project.
The court order requires John Quigley to "vacate and leave this oak tree" and to remain outside a chain-link fence put up by security guards early Thursday. He has been living on a platform in the tree since Nov. 1.
"The guy's been ordered down by a judge and we're going down to get him," said Ray Dong, a supervising dispatcher with the Los Angeles County Fire Department.
Reserve fire trucks with ladders that can reach into the upper branches of the oak tree dubbed "Old Glory" were sent to the scene, along with a fire squad and two fire chiefs, Dong said. Search lights illuminating the tree also were put in place.
Sheriff's deputies also were on hand to help remove Quigley, said Deputy Ramaro Juarez, a sheriff's spokesman.
As the authorities arrived and blocked off roads surrounding the tree, dozens of Quigley's supporters flocked to the area on foot.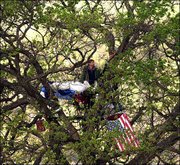 Superior Court Judge John Shook had ordered sheriff's deputies to evict Quigley.
Quigley's attorney, Anthony D. Zinnanti, said he would seek an emergency appeal.
The owner of the property the tree sits on wants it out of the way to widen a road that would serve the proposed 21,600-home Newhall Ranch development north of Los Angeles.
Copyright 2018 The Associated Press. All rights reserved. This material may not be published, broadcast, rewritten or redistributed. We strive to uphold our values for every story published.