Only two seconds showed on the clock before halftime Friday in the girls game between Seabury Academy and Kansas City Metro Academy at East Lawrence Recreation Center, but all Metro's Bethany Schwab needed was one dribble.
Swish!
The 5-foot-5 freshman guard buried a three-pointer a couple of feet outside the circle, giving the Mavericks' a 16-8 lead en route to a 40-22 victory.
"Did you see that shot?" Seabury coach Tracy Kitson said in disbelief. "She's a heck of a player."
And unfortunately for Seabury, the Seahawks could do little to stop her Friday.
Schwab found success inside and out, nearly outscoring the Seahawks by herself with 18 points Friday.
"She just did it all," said Kitson, whose team fell to 2-4.
Despite Schwab's dominance, the Seahawks did put together a rally in the third quarter which cut Metro's lead to five.
"I looked up at the scoreboard and told our kids, 'Hey we're in this game,'" Kitson said.
Not for long.
Schwab scored on a shot inside to start an 11-4 run, which she would cap with her fourth three-pointer with 3:09 left.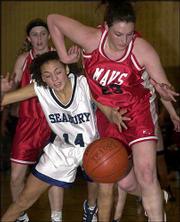 And if that wasn't enough, Metro's reserves closed things with an 8-2 spurt.
Seabury's Linaya Newstrom and Lindsey Ahlen each scored six points to lead the Seahawks.
KC Metro Academy Boys 70, Seabury 21
Things didn't brighten up for Seahawk fans in the nightcap when Metro Academy -- which does not represent a sanctioned state school, but rather an all-star squad of home-schooled players -- blew out Seabury.
Senior Greg Allen tied the Seahawks with 21 points himself, including an emphatic dunk at the end of the fourth.
Mike Summers added 13 points, while Josh Davis scored nine.
Seabury, which scored only four points in the first quarter and five in the second, was led by seniors Aaron Landis, who scored seven points and Kris Finger who added six.
"It's important to keep perspective," said Seabury coach Marcus Heckman, whose team fell to 1-5 on the year. "That's an all-star team and were really young, so I don't really know what a 70-21 loss means. "But they're not like the kind of Class 1A teams we'll be facing later in the year."
KC Metro Girls 40, Seabury 22
Metro (7-7) 9 7 9 15 -- 40
Seabury (2-4) 6 2 10 4 -- 22
Metro -- Bethany Schwab 18, Kayla Phillips 4, Ashleigh Sullivan 4, Jordan Dunivan 4, Erica Riley 2, Stephanie Bell 8.
Seabury -- Linaya Newstrom 6, Lindsey Ahlen 6, Megynn Blanchard 2, Laura Hoffman 2, Laura Frizell 4, Regan Sisson 2.
KC Metro Boys 70, Seabury 21
Metro (16-3) 17 15 19 19 -- 70
Seabury (1-5) 4 5 6 6 -- 21
Metro -- Jake Augustine 8, Matt Branson 4, Kyle Wright 6, Josh Davis 9, Mike Summers 13, Evan Wright 5, Greg Allen 23, Seth Wing 2.
Seabury -- Aaron Landis 7, Kris Finger 6, Tavis Sartin 2, Adam Davis 2, Sean Hill 2, Grayson Dillon 2.
Copyright 2018 The Lawrence Journal-World. All rights reserved. This material may not be published, broadcast, rewritten or redistributed. We strive to uphold our values for every story published.