Phil Ortega stood amid a flood of Kansas University basketball fans, eagerly rubbing his hands together and barking, "Who needs help? Who needs help?"
A man and his wide-eyed son walked up with a pair of tickets in hand.
"This is our first time here," the man said. "We have no idea."
Ortega glanced quickly at the tickets, then pointed halfway up the bleachers at Allen Fieldhouse.
"Better yet," he said, "I'll just take you there."
He whisked the father and son away to their seats.
After 16 years as an usher at Allen Fieldhouse, Ortega can find every seat in the building and knows the quickest way to get there.
"People call me in advance to tell them whether their tickets are good," he said. "If anyone comes to me with a concern or question about Allen Fieldhouse, I'm able to tell them about it."
Ushers are volunteers, but Ortega figures the work is easier -- and cheaper -- than getting on the season-ticket list. After years of working in the upper reaches of the fieldhouse, he has earned a prime ushering location to watch the game -- courtside at the southeast entrance.
There are about 85 ushers, wearing yellow baseball caps, who work each men's basketball game. Jennifer Pozzuolo, who oversees ushers and ticket-takers for the temporary agency Manpower, said KU was one of a handful of universities that didn't pay its ushers.
With KU basketball as popular as it is, it's easy to find volunteers. Anyone wanting to usher at basketball games also is required to usher football games.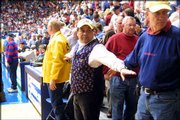 "The ushers have it the best," Pozzuolo said. "Their busiest time is before the game, and they're constantly in the arena with everything, so they have the perk of watching the game. It's often a better view than season-ticket holders."
Ushers are required to be in their spots about two hours before game time. Doors open an hour and a half before tip-off, but ushers typically don't get busy until 30 minutes before the game.
Ortega, 53, said most fans followed fieldhouse rules, though some try to upgrade themselves to better seats or bring food or drinks from home instead of using the concessions. Ushers also try to calm fans who are obnoxious or use foul language.
He admitted students presented the bulk of the problems.
"I've had some confrontations with people," he said. "You just have to be tactful. We don't care who they are. They could be a big shot or a nobody, but we try to treat them with respect."
See our live scores and game coverage of KU vs. Nebraska, photo galleries, video highlights, audio of the coach, statistics and more http://www.kusports.com
Ortega, who works at Hallmark Cards in Topeka, said ushers served as the unofficial hosts and hostesses for KU basketball.
"We try to be as hospitable as possible," he said. "People are coming here from other states, and it might be their first time at the fieldhouse. They're in awe. We want to make it as pleasant as possible."
That sometimes means accommodating special requests.
"Some people want their children to get pictures with Baby Jay," he said. "We try to set that up for them."
In addition to ushering fans, Ortega and the other ushers in the southeast corner escort referees on and off the court. Though most of their job is low-key, the ushers take protecting the referees seriously.
"They are going to hear the yelling anyway," he said. "But at least they don't have to deal with somebody coming at them."
Ortega said he enjoyed seeing the same fans pass through his entrance each game. He said one woman used to bake the ushers cookies.
"I enjoy the camaraderie of the people I've met here," he said. "It's not for the money, but we have a lot of good times."
Copyright 2018 The Lawrence Journal-World. All rights reserved. This material may not be published, broadcast, rewritten or redistributed. We strive to uphold our values for every story published.