Jack Davidson, a voice of dissent on the proposed $59 million bond issue for Lawrence schools, said Friday he wouldn't seek re-election to the school board.
Davidson, 78, is the only board member to vote against the district's blueprint for school construction and renovation.
"I'm 100 percent against the bond issue," Davidson said. "I think it's the wrong amount, for the wrong reason and the wrong time."
He also cast the lone vote against shutting down Riverside School and is opposed to plans for consolidation of East Heights and Centennial schools.
Eliminating these elementary schools is "morally as well as educationally wrong," Davidson said.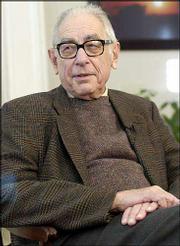 He said it would be "confusing" to voters if he simultaneously ran for the school board and campaigned against bond issue and school consolidation plans endorsed by the other six board members.
"It's more important that the bond issue be defeated at this time than it is that I get re-elected," Davidson said.
Two incumbents who support the bond and consolidation -- Scott Morgan and Mary Loveland -- are running. Both said they were motivated, in part, by a desire to gain voter approval of their facilities plan. Voters go to the polls April 1 to fill four seats on the board and decide the bond question.
Davidson, a retired Kansas University professor, said announcing his political intentions now would give like-minded people an opportunity to file for the school board race at the Douglas County Courthouse before the Jan. 21 deadline. Four years ago, he filed minutes before the deadline.
Other than Loveland and Morgan, banker Cindy Yulich is the only official candidate for the board. The fourth board member up for re-election, Sue Morgan, has not announced her intentions.
Copyright 2018 The Lawrence Journal-World. All rights reserved. This material may not be published, broadcast, rewritten or redistributed. We strive to uphold our values for every story published.