Every time he walks into a restaurant and catches a whiff of cigarette smoke, Lawrence City Commissioner Jim Henry turns around and walks out.
His wife has asthma, and Henry can't stand secondhand smoke.
In Henry's view, it wouldn't be a bad idea for the city to follow Salina's lead. On Thursday that city instituted a ban on smoking in restaurants during the hours most people eat out. Yet Henry isn't about to lead an anti-smoking crusade in Lawrence.
"I think we'll just let the community determine, let the community weigh in on it," he said. "All I know is where I am."
Commissioner Marty Kennedy took a similar position Friday, saying he'd wait to see if voters wanted to decide the matter. Commissioner David Dunfield said he hadn't heard from many constituents about the subject.
Under the ban in Salina, smokers can only puff away in restaurants between the hours of 9 p.m. and 5 a.m. Smoking on an outdoor patio is OK, and bars with less than 30 percent of their sales from food are exempt.
Salina's city commission passed the ordinance in May, but a group that opposed the ban petitioned the commission either to overturn it or put it before voters. In November, the voters approved it -- 59 percent to 41 percent.
If such a ban eventually were to pass in Lawrence, Chuck Magerl would have mixed feelings.
"I have many friends who smoke cigarettes who are very great people," said Magerl, a nonsmoker who owns Free State Brewing Co., 636 Mass. "I don't see them as being lesser citizens. At the same time, I do feel that cigarette smoke is a significant environmental hazard that we have the ability to control."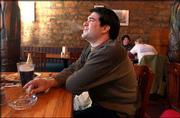 Magerl questioned why the Salina rule allows some exemptions -- for example, smoking at 9:01 p.m. but not 8:59 p.m. Leaving a gray area might cause fewer people to respect the law, he said.
"It seems to me that you either do it or you keep hands off," he said. "If it's deemed to be the wisest thing to do, it should be done not on a halfway basis."
The issue attracts strong feelings from people on both sides, and sometimes it's hard to have a reasonable discussion about it, Salina City Manager Dennis Kissinger said.
"It is the balance of public health vs. private property rights," he said.
Some people, like 28-year-old Bryan Blanck, argue that a private business should be allowed to decide whether it lets customers use a legal product.
"I think it's their right to decide whether they have smoking in their establishment," said Blanck, a smoker who was having a beer Friday at Quinton's Bar & Deli, 1730 W. 23rd St.
Another patron at the restaurant, 21-year-old KU senior Laura Isenburg, said she'd love to see a ban.
"I just hate leaving a place smelling like smoke," she said. "I'd be totally for it."
Virginia Ashlock, 70, who was standing in front of Free State Brewing Co. smoking a cigarette, represents another viewpoint. Even though she's a smoker, she doesn't get worked up about the idea of a ban in Lawrence.
"I would refrain from either supporting or attacking it," she said. "I really don't want to get into the argument."
Copyright 2018 The Lawrence Journal-World. All rights reserved. This material may not be published, broadcast, rewritten or redistributed. We strive to uphold our values for every story published.