Boston — To the Rev. Robert Bullock, the lesson of the clerical sex abuse crisis that began in his own Boston Archdiocese is simple -- priests cannot risk remaining silent and subservient.
"Crimes were committed in our parishes by our brother priests," says Bullock, a co-founder of the Boston Priests Forum. "What made us so passive, so supine, so unwilling to take risks?"
"We can't be that way again," he says. "Those things are going to happen again. We can't be complicit."
Already credited by some with playing a role in the resignation of Cardinal Bernard Law as Boston archbishop, Bullock and others in the group hope the forum grows to combat the secrecy at the heart of the sex abuse problem among the clergy.
Still, some priests see the mere existence of a group of priests independent of the archdiocese as divisive. The Rev. Joseph Hennessey said the forum can best serve the archdiocese "by disbanding."
A forum leader, the Rev. John McGinty, compares the group's future to the development of a precious stone.
"The pressure either makes it or breaks it," he said.
The forum's start was innocuous enough -- three priests meeting for dinner in September 2001 to hash out everyday concerns such as loneliness and overwork. But the hunger for fellowship was sharp, and the group grew to around 50 by the end of that year, just before the sex abuse scandal broke.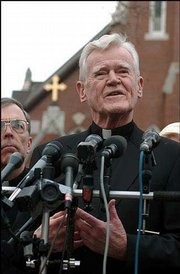 Law became the lightning rod of dissent among parishioners and alleged victims for shifting priests accused of molesting children from parish to parish.
Priests were demoralized by their colleagues' misconduct and the hierarchy's mishandling of the cases. But they also worried about false accusations, and the forum spoke out when Law seemed cool to their concerns.
Some labeled them rebels after 58 priests, including members of the forum, signed a letter calling for Law to step down days before he tendered his resignation to the pope Dec. 13.
Priests take a vow of obedience to their bishop, and disputes between clergymen and prelates are usually settled privately. The priests' public effort to oust the cardinal was unprecedented.
Even with Law's resignation, the archdiocese still faces more than 400 lawsuits filed by alleged victims of abuse, which the archdiocese has pledged to settle, and the release of more documents on problem priests.
Copyright 2018 The Associated Press. All rights reserved. This material may not be published, broadcast, rewritten or redistributed. We strive to uphold our values for every story published.