Top Kansas University administrators and officials with the KU Endowment Association have endorsed a student proposal to build a new Multicultural Resource Center on campus.
Now Endowment Association officials will look for donors to fund the estimated $2.5 million project.
"We understand from the chancellor this is becoming one of his high priorities, making an MRC happen," said John Scarffe, a spokesman for the Endowment Association.
The proposal was spearheaded by Jonathan Ng, student body president. He said the current center -- in a temporary building near the Military Science Building -- was too small, deteriorating and out of the way for students.
"Nothing more can be done to enhance the quality or quantity of multicultural curriculum on campus unless we have another structure," he said. "It's doing as much as it can with the current structure and resources."
Ng proposed building a new 7,000-square-foot center -- including meeting rooms, offices, library and computer lab -- north of the Kansas Union, next to the parking garage. He said such a facility would help recruit and retain minority students at KU.
KU historically has been among the least diverse of Big 12 schools in terms of race, though the number of minority students increased 12 percent this year. There were 2,606 minority students enrolled this fall, compared to 2,326 last year.
"It would show the university's commitment to recruiting and retaining minority students," Ng said. "It would be matching words with actions."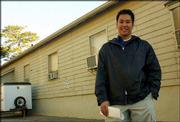 He said he was confident officials could find a donor for the project.
"I think there's definitely interest out there; it's just a matter of finding it," he said.
Janet Murguia, executive vice chancellor for university relations, said Thursday that KU administrators would support the new center.
"This is an important issue for students," she said. "We're listening. We care about this. We want to make sure we're respectful of diversity issues."
Copyright 2018 The Lawrence Journal-World. All rights reserved. This material may not be published, broadcast, rewritten or redistributed. We strive to uphold our values for every story published.