Reaching the Lawrence school board's budget-cutting target of $4.5 million will be as challenging as hitting a dartboard blindfolded.
"We are way beyond having fat, easy things out there to knock off," said Scott Morgan, board president.
Bracing for additional reductions in state aid to public schools, the board Tuesday told the district's budget committee no "sacred cows" should be spared in development of a prioritized list of cost-cutting recommendations for the 2003-2004 budget.
The board deployed a similar review process a year ago in preparation of this year's district budget. It resulted in board approval of $3.1 million in fee increases and spending reductions that balanced the general operating budget at $54.7 million.
"This is going to be harder. The pie is not as big," said Chris Bay, a member of the 20-person budget committee and principal at Sunset Hill School.
Bay said teachers and staff on the committee realized most "bells and whistles" already have been stripped from the district's budget.
If the board cuts spending by $4.5 million, employee layoffs would be required. About 85 percent of the district's budget is tied to salaries and benefits.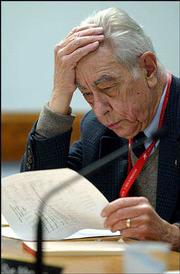 Supt. Randy Weseman said the target was based on an assumption state funding to Kansas public school districts would drop $50 per pupil before the current fiscal year ends in June. Only $27 has been cut so far, but he expects additional reductions in the 2003 legislative session. If the full $50 was sliced, it would cost the district $1.4 million.
Meanwhile, he said, operating expenses for salaries, health insurance and utilities would go up at least $1.5 million.
"We're going to have to deal with a hatchet," said board member Jack Davidson.
Board member Mary Loveland agreed: "People really have to take this seriously."
Last year, the board had a short list of sacred cows. They were "zero hour" class at the high schools, sixth-grade band and orchestra, American Sign Language courses in high schools and any change that increased elementary school class sizes.
Elementary and secondary principals will be asked again this year to generate proposals for the budget committee.
The budget debate will play out at the same time the board attempts to convince Lawrence district voters to approve a $59 million bond issue for school construction and renovation. The plan includes consolidation of three elementary schools.
Copyright 2018 The Lawrence Journal-World. All rights reserved. This material may not be published, broadcast, rewritten or redistributed. We strive to uphold our values for every story published.