Newark, N.J. — Police hunted for a go-go dancer Monday after a 7-year-old boy in her care was found dead in a plastic storage bin and his two brothers were discovered, beaten and starving, in a locked basement room.
An arrest warrant was issued for the 41-year-old woman police allege beat and burned the three boys, who had been entrusted to her by their mother -- her cousin -- months earlier.
The surviving boys, ages 4 and 7, were being treated at a hospital for starvation and dehydration and were reported in fair condition. Newark Mayor Sharpe James said one of them had burns from his neck down.
"Love is being given to them, food is being given to them," James said after visiting the boys.
The dancer, Sherry Murphy, has been charged with three counts of child endangerment and could face more serious charges in the case of 7-year-old Faheem Williams, whose death has been characterized by prosecutors as a homicide.
The grisly case began to unfold Saturday, when Faheem's twin brother, Raheem, and another brother, Tyrone, 4, were found in a basement room in Murphy's two-story Newark rowhouse.
One of the boys said at the hospital that his brother had been missing for weeks. That led police to Faheem's body, stuffed in a storage bin in the same basement.
He had been dead for weeks, investigators said. The cause of death has not been disclosed.
The discovery prompted Gov. James McGreevey to demand a report on the case from the Division of Youth and Family Services. Despite a complaint that the boys were being abused, the case was closed in March 2002 without an onsite investigation, McGreevey said.
The state Department of Human Services, which includes DYFS, said later Monday that the agency had received 10 complaints involving the Williams family dating back to 1992, some of them substantiated. Department Commissioner Gwendolyn Harris said "there may have been major problems in the handling of the case" and that corrective measures would be taken.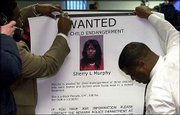 Also, the department said the abused boys had an 11-year-old brother, Fuquan Williams, who was not living at the house where the boys were found. His whereabouts were unknown.
Murphy and the boys' mother, Melinda Williams, had worked together as go-go dancers, the mayor said.
Williams was in critical but stable condition Monday in a New York City hospital after being hit by a car Saturday, authorities said.
Williams told police she put the children in Murphy's care in March when she went to jail for assault. She was released in August, but she told police she could not find Murphy or the children.
Murphy's live-in boyfriend found the boys Saturday while looking for work boots in the basement, police said.
He told police that he had been living in the house for two weeks and knew nothing about the children.
Copyright 2018 The Associated Press. All rights reserved. This material may not be published, broadcast, rewritten or redistributed. We strive to uphold our values for every story published.