Dining with class -- what does this make you think of? Probably a guy, a girl and fancy restaurant.
But fifth-graders at Hillcrest School would answer a bit differently -- and literally. They have sessions of fine dining -- graded for a class, and taken with the rest of the class -- for showing class. According to Micaela Mendez, a Hillcrest fifth-grader, "Dining out is my favorite part of field trips, but it is also a great learning experience."
At Hillcrest, field trips include dining out at local restaurants. Here's an overview of the basic process: Students of the opposite gender are paired up in twos. They head to a restaurant, sit down and talk. Once the food arrives, they are expected to show good table manners and proper etiquette.
Their teachers, Helen Tuley, Coyla Ezell and Kathy Haynes, grade the students on how well they apply these rules, and it shows up on their report cards.
Tuley and Ezell started the dining-out program five years ago because they saw the need for children to have an opportunity to practice good manners, conversation with people and appropriate behavior in a public setting. Tuley said they developed a rubric and expectations, and the students are evaluated with grades and group discussions about their behaviors.
The Hillcrest fifth-graders' most recent visit was to the Heartlands Restaurant at the Lawrence Holidome. Ryan Olsen, catering manager at the center, was impressed with everybody's behavior.
"Seeing the restaurant buzzing with so much activity made me want to join in," he said. "Everyone seemed to be having such a good time with all of the smiles and dinner conversations taking place."
Olsen agreed students could learn a lot from dining out with class. He suggests some important skills all well-mannered diners should know: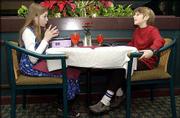 l Based on his years of experience, he would list having a firm grasp on overall manners as the most important thing to know.
l Skills in the art of conversation would be his second choice, Olsen said; it makes the dinner that much more pleasing. Eloquent speaking also passes on knowledge of a person, situation or event with effective and enjoyable communication.
l Understanding how to eat would come third, Olsen said. "If you are sitting at a table, you should know how to eat at a table, and not eat like you are at a hog trough."
The fifth-graders may learn about the right forks and mannerisms, but overall, understanding how to be polite and gracious to your dining partners is the key lesson teachers expect. Even students agree they've learned a trick or two.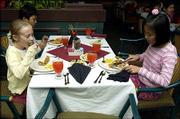 "I used to be superfidgety when I sat down to eat, but now I'm a lot better at sitting still," Samuel Walter said.
Jacob Hut said, "I now always put my napkin on my lap and keep my elbows off the table."
According to Ben Rosenbloom, "Well, I guess I've learned how to bring out conversation. I really wasn't too good at it before."
Ayjan Arik said her interpersonal skills had improved: "I personally think eating out with dining partners of the opposite gender is important because you learn how to make conversation with someone who isn't exactly your best friend."
---
-- Dylan Guthrie is a fifth-grader at Hillcrest School.
Copyright 2018 The Lawrence Journal-World. All rights reserved. This material may not be published, broadcast, rewritten or redistributed. We strive to uphold our values for every story published.