You could call it a cowboy convention.
The first Lawrence Cowboy Winter Gathering, a trade show billed as "a celebration honoring Kansas' cowboy culture," is set for Jan. 17-18 at the Lawrence Holidome, 200 McDonald Drive.
"There is an unbelievable cowboy interest in Lawrence and Kansas City," organizer Rob Phillips said.
He and about 50 Midwest vendors will find out whether that interest translates to dollars and spurs January tourism business in Lawrence.
Planning for the event began last summer when area hotel officials began fretting about the abundance of vacant rooms during the winter months.
"We were sitting in the general managers' meeting at the Hampton Inn saying 'What can we do?'," recalled Phillips, who runs the Eldridge Hotel, 701 Mass.
The answer they came up with might seem a little unconventional.
Like most trade shows, vendors will pay for a booth to hawk their goods; the price to be part of the cowboy show is $100 a head. But unlike other conventions, each vendor also will receive a complimentary two-night stay at one of the gathering's 10 participating hotels.
"We're trying to leverage empty hotel rooms to attract vendors and others," Phillips said.
So far, the plan is working "tremendously," Phillips said.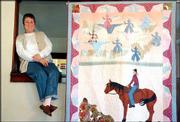 All 50 vendor slots already are booked, and event organizers are trying to stretch that limit to fit more into the Holidome.
Two musical venues also are planned. A stage at the Holidome will feature local western music acts throughout the weekend, and national recording artists Sons of the San Joaquin will perform both nights at Liberty Hall.
Terry Clothier Thompson, owner of Peace Creek Patterns & Quilts, is hoping the event puts the city on the trade-show map.
"I want to help promote Lawrence as a destination point for this kind of thing," she said. "It makes it interesting when we expose our heritage, and I think that's a side of this part of Kansas that a lot of people don't think of."
Thompson, who will sell her quilts and three of her books chronicling life on the Kansas prairie, is hoping the trade show will become an annual event.
"If that happens, I could plan a year ahead and have more products to sell," she said. "I like exposing my books to different markets."
Phillips also hopes the cowboy convention will be a success.
"The first time you put on an event, it's terribly hard because you have no track record," Phillips said. "Next year, we hope our reputation of having a great event will bring people back without as much enticement."
Copyright 2018 The Lawrence Journal-World. All rights reserved. This material may not be published, broadcast, rewritten or redistributed. We strive to uphold our values for every story published.