Manhattan — Kansas State didn't find a rhythm and started the second half slowly, but coach Jim Wooldridge still couldn't help but smile.
Playing without two starters, the Wildcats beat Central Florida 71-59 Monday night to finish non-conference play with the best record in coach Wooldridge's three years.
"It wasn't an easy game for us to win," Wooldridge said. "We were undermanned and the dynamics of our team changed. But the guys that had the minutes played well."
Forward Matt Siebrandt sat out the game because of the flu and guard Jarrett Hart missed his second straight game because of a back injury.
But forward Marques Hayden scored 16 points and had 10 rebounds in his first start and Tim Ellis scored 14, giving K-State its seventh straight win.
The streak is the longest since 1998 when Kansas State (9-4) also won seven. The Wildcats are off to their best start since starting 11-2 in 1998. All that came after a 2-4 start, the worst since 1968.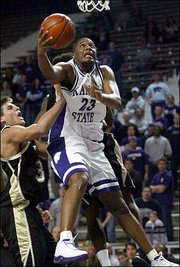 "They've done a great job rebuilding their season," Wooldridge said. "There's been a lot of lessons learned. Now we start the next phase."
After leading 43-33 at halftime, the Wildcats started the second half shooting 1-of-10, letting the Golden Knights cut their lead to only four points with 7:06 left. Central Florida stayed close before Gilson DeJesus and Tim Ellis made back-to-back layups to put Kansas State up by nine with 3:02 left.
"We weren't cutting and moving in the offense," DeJesus said. "We knew how good that team was. I mean they beat a Top 25 team in College of Charleston. They were always there, so we had to get back on track."
K-State had four or more players in double figures for the seventh straight game. Gilson DeJesus added 16 and Frank Richards had 11.
Copyright 2018 The Associated Press. All rights reserved. This material may not be published, broadcast, rewritten or redistributed. We strive to uphold our values for every story published.